China's global share records huge drop in 2016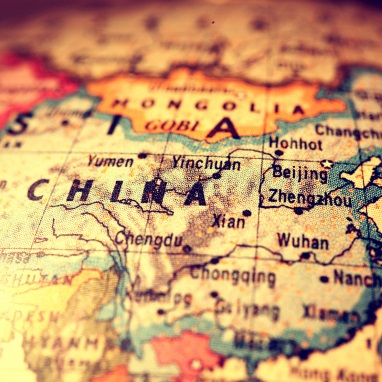 The
worldfoot?ear.com
analysed the 2016 footwear imports data from all top markets and estimates that China share on world exports has dropped to 65% from the 74% share registered in 2012
Based on information provided to the
worldfootwear.com
by the China Leather Industry Association (CLIA), China's footwear exports were down by 12% in the first semester. The decrease in value terms was accompanied by a decline in volume of exports, but at a smaller extent (-5.7%). According to the same source, during the first six months of 2016, Chinese companies have exported a total of 4.74 billion pairs of shoes.
By analysing the top 20 destinations in value, the decline occurred across most of them. If this performance by Chinese exports continues in the second semester, and assuming no major disruption occurs in the international markets, the World Footwear estimates that China might risk to decrease its quota in the global footwear exports to 65% from the 69% share registered last year. By analyzing imports and exports in other important markets, such as the US, the EU and Japan, nothing seems to indicate that major shifts are occurring in these markets that might reverse the tendency showed by the Chinese exports in the first half of the year. As such, the World Footwear estimates that China might be on the verge of losing almost ten percentage points in the global share of footwear exports during the last 4 years.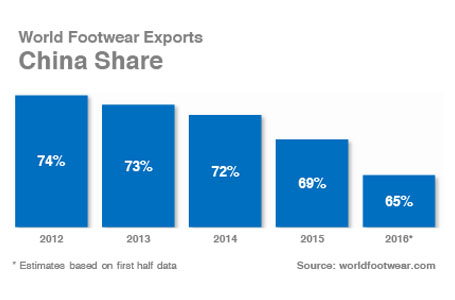 The drop in Chinese footwear exports during the first semester of 2016 is unquestionable and occurs across most of the Chinese main destination markets, but there seems to be no statistical evidence of the shifting movement being concentrated in a single country. By the contrary, several markets seem to be taking over from China's lost quota. For example, shipments to the US, the largest importer of footwear (according to estimates by the
2016 edition of the World Footwear Yearbook
), have increased from all of their main suppliers during the first half of the year, and besides China, countries from Asia (4), Europe (3) and America (3) are in the rank of the US main suppliers.