A two city collection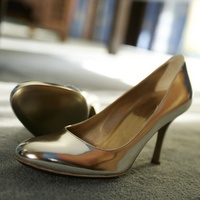 Wendy Lam – a New York blogger that who writes about style and fashion – maintains a collection of 500 different pairs of shoes.
The face behind ''Nitro:licious'' , a famous blog launched in 2006, is Wendy Lam, a young girl that loves shoes and has recently amassed an impressive collection of hipster-worthy shoes.
She maintains a collection of 500 shoes; including everything from Jordans to Hello Kitty and Versace. Due to her avid worship of shoes she also has a to maintain all of them, resulting in lots of work. As the space isn't enough, Lam splits the collection between her apartment (in the Lower East Side) and a showroom in her boyfriend's house.
"I love coming here to work (in my shoe closet). It's soothing to be with the shoes, and, of course, to blog" she said to FTNews.
Curiosities
Lam has 150 pairs of sneakers and another 150 pairs of different shoes in Brooklyn.
When her closet is full, she gives some shoes to friends and family.
The oldest pair that she maintains are a Jordans from 1995, which actually started the collection.
The Isabel Marant wedge sneakers are her favourite.
You can visit her page and know all about luxury labels and fast fashion at: http://nitrolicious.com