Portuguese footwear industry to invest 50 million to be the most modern in the world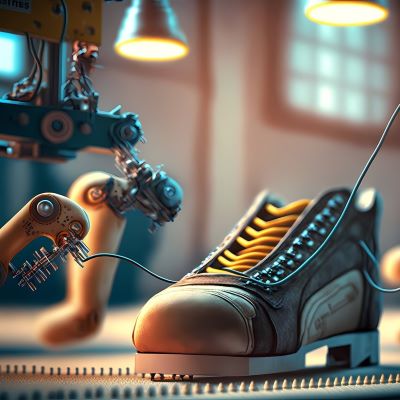 In a project coordinated by the Footwear Technology Centre of Portugal (CTCP), the Portuguese footwear industry is bringing together 45 partners to develop the intelligent factory of the future
The FAIST project - Agile, Intelligent, Sustainable and Technological Factory - involves an investment of 50 million euros, under the Recovery and Resiliency Plan (RRP), in the field of Mobilization Agendas, and "has as its main goal to provide and empower this industry with innovative technologies, processes and sustainable materials, increasing the responsiveness to market demands and continuing making the Portuguese footwear and leather goods industry the most modern in the world", said Florbela Silva, coordinator of the project.

The consortium led by the company CARITÉ and technically coordinated by CTCP consists of 44 co-promoters, including 14 footwear and leather goods companies, 9 component companies, 15 companies of technological basis and 6 associative entities of the scientific and technological interface.

Florbela Silva recalls that is underway "the modernization of processes and new products to make the Portuguese industry more agile and competitive, the most modern in the world". For this, the sector will invest "in the development of robotized and automated production processes, management software and production control, in parallel with the development and production of new types of ecological and sustainable products". This way, it will be possible for "Portuguese footwear and leather goods companies to expand their range of products".

On the other hand, to optimise production efficiency, the sector "ought to increase its degree of specialization, reducing the waste of energy and resources with an indispensable greater qualification and training of human resources". At last, "the dissemination of these technologies throughout the sector will be ensured by a structured and innovative communication programme", allowing it to achieve international scale.

One of the most critical areas - continued the coordinator of the project - concerns the "attraction of technology-based companies, with tradition and experience in other industries, to develop new equipment and induce disruptive industrial processes, more efficient and with increased production capacity". Therefore, the FAIST Agenda will "invest in the Portuguese companies' capability to produce equipment goods and foster innovative processes, thus reducing the share of imports of these technologies and increasing opportunities for the national industry with impact on the growth of skilled jobs".

In the view of Florbela Silva, the "implementation of this project will significantly boost the Portuguese footwear and leather goods cluster, increasing its degree of specialization both in the production of new products, as in equipment goods and processes". As a result, "important increases in the agility of response to markets and sustainability will be achieved, supported by technology and intelligence, with high differentiation and international projection".
Souce and Image Credits: portugueseshoes.pt