Neonyt and FASHN ROOMS join forces in Düsseldorf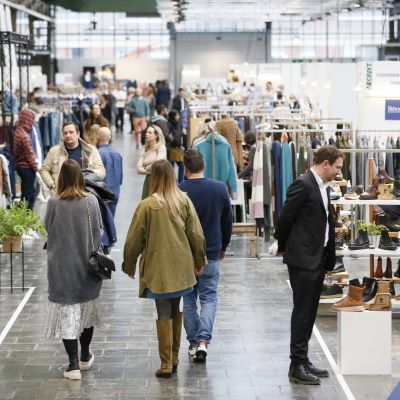 The two independent trade shows, which took place from the 28th to the 30th of January in Düsseldorf, launched the first-ever joint conference format on fashion and sustainability
From the 28th to the 30th of January, the two independent trade shows Neonyt and FASHN ROOMS took place side by side in the of Areal Böhler in Düsseldorf, providing around 400 brands with "the optimal setting for orders" and networking opportunities. "Being held as concurrent B2B events, these trade shows enabled a special exchange between sustainable and conventional fashion industries and sparkled with pooled fashion competence for satisfied exhibitors and happy visitors", underlined the organization, Igedo Exhibitions.

Neonyt, with stop-overs in Paris, Berlin, and Frankfurt, is since its inception a B2B community platform for fashion, sustainability and innovation, while FASHN ROOMS is a basis for brands from the womenswear and menswear segments as well as for the suppliers of complementing products, such as shoes and high-quality accessories.

But the synergy between the events was further explored with the launch of a joint conference format named "The Stage". This space was packed with alternating talks on sustainability - the Fashionsustain The Conference. by Messe Frankfurt from the Neonyt community – and fashion, at the care of FASHN ROOMS. Delivered as a silent conference, that is, "via headsets where listeners were able to choose between German and English", these talks generated "an engaged exchange between visitors on sustainable and conservative fashion concepts" creating "a melting pot for fashion, trends, innovation and inspiration".

"Our expectations were more than fulfilled by the venue, the infrastructure, the organisation all the way to catering – they could not have been better. This gives us confidence for the summer event and that even more charismatic brands will exhibit and attract further buyers. One thing is clear: the synergies with FASHN ROOMS are obvious and were more than confirmed. Likewise, the talks and conferences at both events were well worth seeing for customers and exhibitors alike", commented Heiko Wunder, Managing Partner of wunderwerk, present at the event.

The next edition will be held from the 22nd to the 24th of July 2023.

Image Credits: luxiders.com