Skechers teams up with Hoop 'Til It Hurts Foundation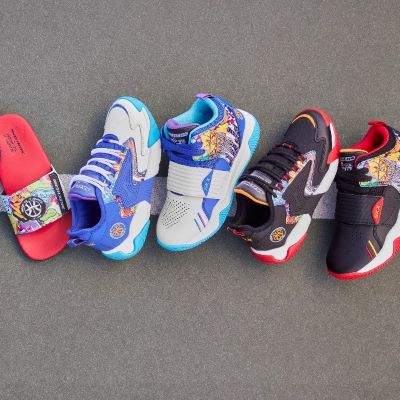 The company has launched a line of children footwear to support the Foundation's mission of helping children in underserved communities across the US find lifelong success through basket
"As a family brand, children are at the heart of our company—and Hoop 'Til It Hurts Foundation's mission resonated with us. By combining our philanthropic commitment and resources with their artistic designs, we've created a one-of-a-kind footwear line that honours the Foundation's mission", commented Michael Greenberg, president of Skechers.

The initiative will provide additional funding to assist in the provision of athletic apparel and grants to support the costs of children's sport-related activities, such as the ones associated with tournaments, registration, league fees and travel expenses. The Skechers x Hoop 'Til It Hurts collection is available at the company's website in the US and Canada, as well as in retail stores and selected retail partners in the US. The line includes three athletic models - 'Powershot – Skech-Hops', 'Durox – Skech-Speed' and 'Gambix X – Skech-Revs' - to be used in-court and off-court.

Hoop 'Til It Hurts! Founder Michael "Skeet" Horton, who used his own life as inspiration for the organization and helped creating the new shoe collection's signature graffiti designs, added, "It means so much to me to have the opportunity to collaborate with one of the most reputable and successful shoe companies in the world. The partnership with Skechers will provide exposure for the Hoop 'Til It Hurts Foundation, as well as garner additional funding to support our mission to keep children of all ages engaged in youth sports. The longer kids are engaged in sports, the more likely they are to develop focused life skills and make connections that lead to a brighter future".

Image Credits: sourcingjournal.com