Stella recovers but remains cautious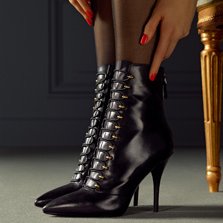 The Hong Kong-based footwear group has announced a recovery of its footwear shipments in the last quarter of 2017, mainly led by casual and fashion products
The designer, manufacturer and retailer of footwear and leather goods products announced unaudited revenue of approximately 357.2 million US dollars in 2017 (356.2 million US dollars in 2016) and 1 571.3 million (compares to 1 549.0 million US dollars in similar period in 2016) for the last three months and year ended on the 31 st of December 2017.
This represented an increase of 0.3% and 1.4%, respectively, as compared to the unaudited consolidated revenue for the corresponding periods of last year. Revenue from the group's manufacturing operations increased by 2.1% and 1.6%, totaling 349.3 million US dollars and 1 510.3 million US dollars respectively in the three months and year ended on the 31st of December 2017.

Shipment volumes saw signs of recovery, increasing by 11.6% to 14.4 million pairs and by 7.0% to 56.6 million pairs respectively over the same periods, as compared to the corresponding periods of last year.

According to Stella, the increase in revenue and shipment volumes, particularly in the last quarter of 2017, was attributable to a recovery in demand for our casual and fashion footwear products: "Volume growth for our fashion athletic products continued to normalize in the three months ended on the 31st December 2017 and was the primary contributor to growth in the year ended 31 December 2017".

The average selling price of footwear fell by 8.3% to 24.3 US dollars per pair in the three months ended on the 31st of December 2017, due to changes to the product mix, as well as customers' product mix. During the year, revenue from the European retail business – under the three retail brands, Stella Luna, What For and JKJY by Stella – rose by 26.8% reaching 15.6 million US dollars, while same-store sales in Europe rising by 21.4% during the same period.
Looking forward, Stella remains cautiously optimistic about their shipment volume recovery. Although they confirm they are witnessing early-phase contributions to the fashion athletic segment from high-end customers, providing a foundation for our future growth, close monitorization of the consumer sentiment in the US and most parts of Europe will continue. Attention to potential risks posed by the ongoing consolidation among footwear brands, the shift of end-sales to online platforms, as well as geopolitical factors such as growing calls for trade protectionism, US-North Korea tensions and Brexit.

Commenting on the outlook for the group's businesses, Chairman Mr. Jack Chiang, said: "While the ongoing risks in the global footwear sector and the external environment remain unchanged, sustained economic growth in all of our export markets may further strengthen volume recovery in 2018. As a global company with customers located around the world, we will continue to pursue our mission to Make the Best Shoes."