Footwear company Stella with rising profit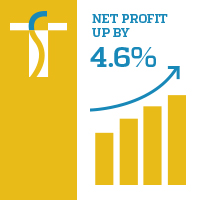 Net profit attributable to shareholders increased 4.6% during the first semester of the year as a reflection of the improvement on global economy, the company believes. Sales were up by 3.6%


Stella International Holdings Limited
, a developer, manufacturer and retailer of footwear and leather goods, experienced improved momentum in the six months ended 30 June 2014. Cautious customer orders placed in the first quarter of the year were replaced by more active ordering activity in June 2014, in line with improving consumer sentiment in the United States and Europe. The group's consolidated revenue for the interim period rose 3.6% to 722.6 million US dollars, while gross profit across all business segments declined 6.1% to 154.6 million US dollars.
Shipment volumes fell 0.4% to 23.7 million pairs, while the average selling price (ASP) of footwear products rose 5.6% to 28.4 US dollars per pair. The rise in ASP, is according to Stella, "mostly attributable to rising input costs, particularly for leather". Profit attributable to shareholders of the company rose 4.6% to 52.6 million US dollars, as "better cost controls and efficiency, along with better economic conditions, partially offset the operational pressures which arose from lower utilization during the first five months of 2014".
As basic earnings per share for the semester rose 4.6% to 0.0663 US dollar, the company announced an interim dividend of 30 HK cents per share (approximately 0.039 US dollars).
Mr. Lawrence Chen, Chief Executive Officer of
Stella International Holdings Limited
commented: "Improving economic conditions in our primary export markets has started to be reflected in our financial performance and we were pleased to witness a pickup in customer orders towards the end of the interim period. Some risks remain however and we are continuing to maintain ongoing measures to strengthen our cost controls and further improve the quality of our products."
Women's fashion footwear continued to be the biggest contributor to overall revenue, at roughly 37.5% of total revenue. The contribution from the women's and men's casual footwear segments to the group's overall revenue was 22.6% and 22.6% respectively, while the men's fashion footwear segment contributed around 10.1% of overall revenue.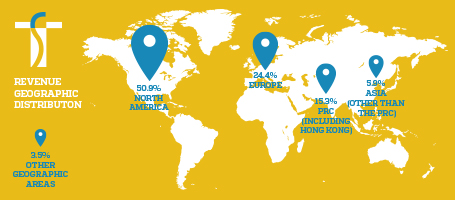 Geographically, North America and Europe remained the two largest markets, accounting for 50.9% and 24.4% of the group's total revenue respectively in the six months under review. This was followed by the PRC (including Hong Kong) accounting for 15.3%, Asia (other than the PRC) accounting for 5.9% and other geographic regions which accounted for 3.5%.
As of 30 June 2014, the group operated a total 216 Stella Luna stores, 124 What For stores, 12 JKJY by Stellastores and 3 Pierre Balmain stores globally.
Mr. Jack Chiang, Chairman of the group commented on the outlook for the next few months: "We are cautiously optimistic about the prospects of our business in the second half of the year, especially in light of the better than expected 4.0% rebound in the United States economy in the second quarter of this year. We look forward to delivering further value to our customers in the form of innovative footwear products and increasingly leather goods products and delivering stable returns to our shareholders."
Company shares were last traded at 2.73 US dollars on the 13th of October at the Hong Kong Stock Exchange.
For more information about Stella please visit the
company's website
.