Two Ten Footwear Foundation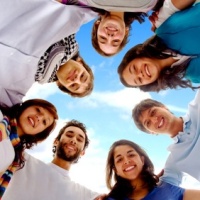 February 10, or Ten Day, marked the official beginning of the Two Ten Footwear Foundation 75th anniversary year

By the end of the nineteen thirties, Boston, a key city in the American shoe manufacturing industry, was witnessing the impact of the Great Depression, mainly with the loss of jobs. Many working salesmen started to get together once a week and literally passed a hat in order to contribute to a pot of money that would be used to support other salesmen out of work and in need.
A group of people, including A.A. Bloom, Abe Borkowitz, Morris Rosenston and Al Schachat, noticed the practice and realizing that wasn't an effective way to provide financial support decided to create an organisation aiming to assist shoepeople in need. Abe Shapiro, President of the Gold Seal Rubber Company, and owner of a building housing over 300 shoe companies at 210 Lincoln Street in Boston, provided a monetary gift to the organization, and some office space at the building in Lincoln Street to concentrate the operations. And so, the base for the name of the organisation - Two Ten – was found.
Aiming to source capital funds, fundraising activities began immediately and got intensified with the breaking of the World War II and the urging need to help those in the frontline. In 1944, Two Ten embarked on a specific fundraising campaign to purchase a mobile canteen that was later donated to the American Red Cross, used to distribute food and beverages to embarking and debarking servicemen at the Boston Port.
After the war, the requests for financial assistance started to arrive from across the nation. At this point in time the volunteer group was insufficient to respond to all requests and a full time associate was hired. Regional chairmen started to be in place, overseeing activities in other cities, such as New York, St. Louis, Chicago and Los Angeles, and increasing the number of people involved in the assistance initiatives.
Over the decades, Two Ten concentrated efforts on fundraising activities, expansion across the country and provision of financial, social and emotional support to members of the footwear community. In 1969 Two Ten created a scholarship program to assist students with their education costs, and since then 5.400 students were awarded nearly $18 million. From 2008 onwards, Two Ten Footwear Foundation has also offered two Ars Sutoria scholarships, established through the support and partnership with Ars Arpel Group, creating more opportunities to further the education of American footwear developers.
Nowadays, Two Ten Footwear Foundation works as a charitable foundation offering Financial Assistance, Crisis Counseling, Community Resources and Scholarships to those working in the footwear industry. With no fees or membership required to benefit from their services, the foundation notes that in 2013 they managed to provide $2.5 million in financial support and scholarships, helping 2.000 families mainly with their house, car and utilities payments.
For detailed information about Two Ten Footwear Foundation you can visit their website:
http://www.twoten.org/