The increasing value of green and responsible labels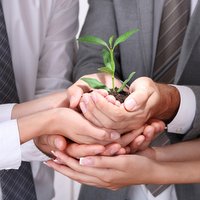 The study Footwear Consumer 2030 predicts that in the next 15 years sustainability issues will raise new questions for brands and businesses, especially as public scrutiny tends to intensify
Study available
here
.
Environmental causes have been on the agenda of individuals and companies for at least the last five decades, with different concerns grabbing the public's attention depending, in many instances, on its media coverage.
Nowadays, we assist to numerous manifestations of sustainability and eco concerns, reflected on a growing call for transparency from society as a whole. More than ever, consumers are conscious of the impacts that certain activities have on the planet and its resources, pressuring companies to accept their responsibilities.
It is not easy to measure how conscious or aware consumers are as compared with how they were a few decades ago. However, regardless of the level of awareness that consumers currently have, it is likely that they will live under more sustainable rules over the next decades. The impact of the growing cost of non-renewable resources will certainly explain part of that growing consciousness, as extraction, transportation and other indirect costs will continue to impact on the manufacturing process, and so be reflected in the products' prices.
On the other hand, increasing levels of education will undoubtedly influence the way people relate to the environment and with sustainability questions, as they will be more prone to change consumption habits including options about food, energy, transportation, clothing, electronics, energy and recycling. Also, consumers might start looking for more value for long term savings and might choose certain products that are more expensive but are be seen as investments offering future savings.
Apart from any personal view held by an individual on a specific topic, consumers are also influenced by their membership of the wider social and cultural community and this will also have impact in this area. As sustainability and eco concerns are made social causes, messages around these themes become effective, strong and powerful communication and marketing strategies.
In this sense, the adoption of more sustainable lifestyles will be strongly pushed by companies, industries and brands, as they will use sustainability as a source of innovation, developing new solutions and new products. Communicating this shift to consumers in an effective way, as part of wider marketing campaigns, will represent a fundamental change in the way brands operate and plan their strategies. This will ultimately influence the behaviour of consumers, regulators and even other companies.
Trying to anticipate what will happen in terms of environmental and social concerns is not straightforward. Firstly because these concerns have been on society's agenda for decades, and although they are still active it is not clear how they will develop. Also, in the case of existing disputes between two opponent parties, it is very hard to completely understand the impacts of both solutions and analyze the pros and cons. This is the case in the current discussion about the environmental benefits and disadvantages of leather versus synthetic and plastic footwear.
Regardless of the impacts of the sustainability issues, it is expected that public scrutiny will intensify at the same that that sustainability rules increase and consumers and citizens start to claim a clearer tracking process of the supply chain.