schuhkurier with a special edition dedicated to GDS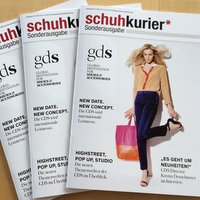 The German footwear magazine issued a new edition focusing on the next edition of the GDS trade fair

This special edition contains forty two pages with relevant information on the new fair format, the new dates and also varied articles relating to the event, namely covering the expectations of the industry about the trade fair taking place in two months' time.
Special note to the interview with GDS Director Kirstin Deutelmoser, who explains in detail the new concept of the Düsseldorf fair: "Prevailing in the market is becoming increasingly difficult. It is all the more important for retailers to enter the new season well informed. This is precisely what the new GDS, at its new date, is going to make possible. Retailers will see all new products at GDS which will be relevant in the new season. Moreover, they will have the opportunity to see new suppliers and include them in their assortment planning. GDS therefore offers retailers the opportunity to reposition themselves significantly."
Kirstin Deutelmoser supports the new dates of the fair, a direction that is being followed in general by trade fairs, with the following arguments: "If you want to excite the customers, you should focus on who you really are and show your highlights. And exhibitions can draw attention especially at the beginning of the season. Individuality is becoming ever more important! This must also be reflected in the collections. The focus is on genuinely new developments."
Besides the interview with the GDS Director, this special edition of schuhkurier contains sections dedicated to the new fair concepts and the different worlds that are being created for the next edition (High street, Pop Up, Studio). The next edition of the fair will take place in Düsseldorf, between the 30th July and the 1st of August. Tag it! by GDS, the show for private label (shoes and accessories), will start one day earlier.
GDS recently launched its renovated website, providing insights into the development process of the fair and gathering additional information for exhibitors and press representatives. For more info about the GDS trade fair please refer to:
www.gds-online.com
For full access to the special edition of the schuhkurier please visit the website:
http://www.gds-online.com/static/gds/schuhkurier_20140519/en/index.html