Salehe Bembury reinvents the iconic Clarks Lugger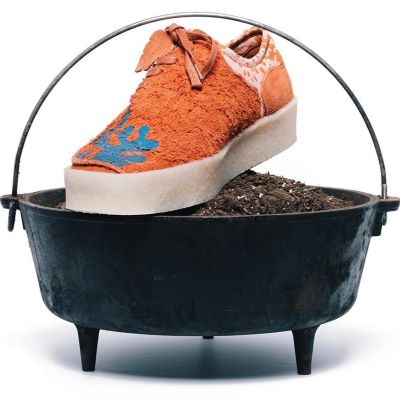 The renowned American footwear designer has teamed up with Clarks Originals to reinvent the brand's iconic style Lugger, almost 40 years since it was introduced
"Salehe Bembury needs no introduction. Starting out with Payless Shoes back in 2009, the American footwear designer went on to hit the big time with a roster of work that boasts some of the biggest brand names in the world. Bembury's uniquely luxe spin on street style is equally lauded and he continues to be one of the industry's most sought-after creatives", stated the UK-based label on its website to introduce the newest Salehe Bembury x Clarks Originals release.

Dubbed 'Mud Moss Lugger', the shoe offers a contemporary new take on the iconic Clarks Lugger. It blends elements from the classic Clarks' Wallabee and Bembury's signature motifs, such as the shaggy suede upper, asymmetrical lace panels, as well as the recognizable splash pattern on the toe and collar. Available in three colourways – Masala Orange, Sapa Green and Lichen Grey – the new style also features exclusive Bembury-branded fobs and the signature Clarks Originals FSC- certified crepe rubber soles.

The brand-new Luggers, which cost 160 pounds, are already available from Bembury's beaspunge.com channel, clarks.co.uk, clarksusa.com, and select Clarks stores and wholesale partners in the UK, US, Canada, China, France, and Japan.

Image Credits: hypebeast.com