Rufel launches limited edition bag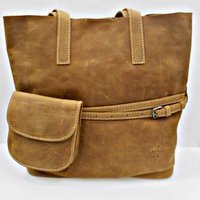 The Portuguese-based company, established in 1975, is specialised in manufacturing bags and accessories for men and women
Back in the 70's Rufino Santos, at the time a young man of 15 years old, decided to invest his savings in a sewing machine and make bags for men. He started by himself, at his parents' home. Being a real entrepreneur, he did it all by himself, from cutting the materials to sewing the final bag. Only later did he begun to hire workers.
Since then, Rufel hasn't stopped growing, and eight years ago Rufino's daughters became managers of the company. Ivânia and Carina Santos are now in charge of Rufel, but they always take in consideration their father's opinion and vast experience within the industry.
In 2005, with the growth of Rufel, it became necessary to move the facilities S. João da Madeira's industrial zone, making the company more easily accessible for customers.
All bags are manufactured in a semi-artisan way using high quality leather. All other materials are also of superior quality to ensure the bags stand out from the competition. For example, applications are made from Zamac metal, so it doesn't rust. According to the brand, "Rufel bags last a lifetime". The quality and versatility of the product, as well as the delivery of the orders in the estimated time, are the main standing points of the brand.
Rufel is currently recognized as a leading brand in the national market, but the international market makes a significant contribution to the sustained growth of the company, being the destination of 90% of the production. Germany, Netherlands, Spain, Angola and Mozambique are currently the major markets.
The brand is proud of constantly innovation and standing out with its collections. In 2011 the company has launched the male line, with exclusive items for the modern and executive man who is fan of tablets and smart phones. Now, in partnership with the municipality of Sta. Maria da Feira Rufel has just launched a limited edition bag, celebrating the 20th anniversary of the Medieval Journey, one of the most important events taking place in town during the summer.
For more information about Rufel please visit the
company's website
.