Pre-pandemic footwear consumption levels not reached before 2023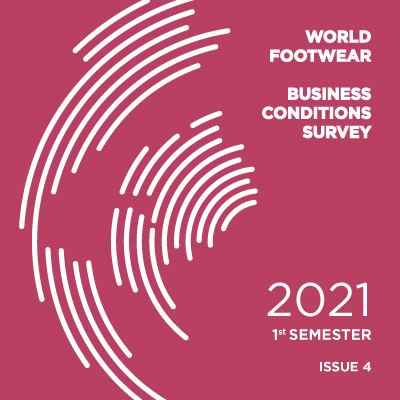 The World Footwear' experts panel, gathering specialists from all over the world, is foreseeing a slight recover in footwear consumption during 2021 (+2.8%). Pre-pandemic levels shouldn't be reached before 2023
This is one of the main conclusions of the 4th edition of the World Footwear Business Conditions Survey, which enquired experts within the footwear industry across the world.

Do you want to read more?

Get access to the full report with all the conclusions of the survey.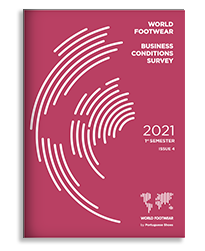 Taking in consideration that the consumption of footwear had a significative decrease in 2020, in the fourth edition of the World Footwear Business Conditions Survey, we've questioned the members of our expert panel about their expectations on the evolution of footwear consumption in 2021 when compared to 2020.
The most common answer was that they expect a "
moderate growth
", between 1.5% and 5%, both at home and globally. Although this represents a positive view on the evolution of footwear consumption in the current year, more respondents expect a moderate fall than stabilization or strong growth.
Our projection, based on the answers of our panel of experts, is that
consumption could grow by 2.8% in 2021
.
Should these forecasts prove accurate, footwear consumption will grow 5.8% in South America, 3.8% in North America, 2% in Europe and Africa and 2.8% in Asia, this year, on average.
It is also expected that in 2022 footwear consumption might still be below its pre-pandemic levels. On average, our respondents expect
footwear consumption to return to its pre-pandemic levels during 2023
.
Contents of the Report
About the Survey
Executive Summary
Business Context
Quantity
Prices
Difficulties
Types of Footwear
Possible Explanations
Retail Channels
Footwear Consumption in the US not keeping pace with the rest of the World
Consumption Expectations
The Importance of Different B2B Marketing Tools
Priorities for Post-COVID Investment
About the Business Conditions Survey
In 2019 the World Footwear has created the World Footwear' experts panel and is now conducting a Business Conditions Survey every semester. The objective of the World Footwear Experts Panel Survey is to collect information regarding the current business conditions within the worldwide footwear markets and then to redistribute such information in a way it will provide an accurate overview of the situation of the global footwear industry.

The fourth edition of this online survey was conducted during the month of March 2021. We have obtained 141 valid answers from 42 countries, 52% coming from Europe, 21% from Asia, 14% and 8% from North and South America, respectively, and 5% from Africa. More than one third (35%) of the respondents are involved in footwear manufacturing (manufacturers), 20% in footwear trade and distribution (traders) and 45% in other footwear-related activities such as trade associations, consultancy, journalism, etc. (others).