Portuguese footwear exports with two digits growth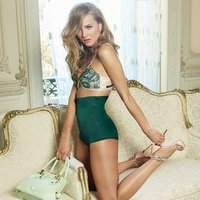 According to APICCAPS, during the first quarter of the year Portuguese footwear exports reached 484.4 million euros, increasing 10.8% from similar period last year


APICCAPS, the Portuguese Footwear, Components and Leather Goods Manufacturers' Association, announced that during the first three months of the year, Portuguese footwear exports totaled 484.4 million euros, reflecting a two digit growth (10.8%) from the 437.3 million euros registered in similar period last year. Sales abroad are increasing, in average, across all regions, but at different rhythms. The most significant increases were registered in the Americas, with 64.0% growth and Rest of the World with 35.0%. The European Union (EU) region grew 8.1%, while other European markets outside the EU (including Norway, Russia, and Turkey) grew at a rate of 15.9%.

By country, the most impressive growth rates were registered outside the EU: Hong Kong (296.0%), Chile (196.4%), China (144.2%) and the United States (100.5%) all had 3 digits growth rates. Behind this impressive performance is a tendency to diversify destination markets for the Portuguese footwear.

The European Union continues to be the main destination for Portuguese footwear, with 86.8% of Portuguese sales abroad reaching an EU country. Most important markets in the first quarter were France with 117.5 million euros, Germany with 87.1 million euros and The Netherlands with 64.0 million euros. In terms of the growth rates, the most relevant ones within the region were registered in Poland (51.0%), Ireland (31.7%), Sweden (25.5%) and Austria (25.3%).

By type of product, leather footwear reinforced its position as the main type of footwear exported by Portugal, increasing 8.2% and now reaching a share of 88.6% in total sales. All products increased its sales abroad, apart from waterproof footwear which registered a small decrease (-0.5%).

On the imports side, an increase of 7.0% in value and 54.3% in volume, places total imports for the period at 22.9 million pairs valued at 125.3 million euros. Imports from the EU were characterized by stability with total value of imports in the first three months of the year reaching 100.5 million euros, 0.1% below the 100.6 million euros in similar period in 2013. Imports from the Rest of the World increased 73.7% in the period, and represent 18.1% of total; purchases from the Americas declined 37.8% and from other Europe countries the decrease was 33.5%.