NSRA names Retailer of the Year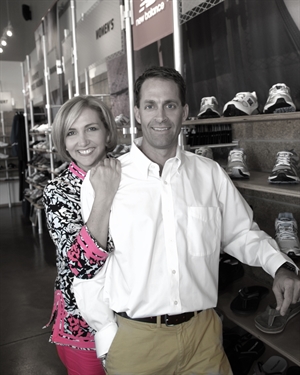 The National Shoe Retailers Association (NSRA) named Molly and David Jackson as its 2019 Retailer of the Year and celebrated it during NSRA's leadership conference
The Jacksons' retail portfolio includes five stores in Florida: New Balance Sarasota, New Balance University Park, Fleet Feet Sarasota, and two Molly's boutiques that offer shoes, handbags, jewellery and gifts.
Prior to owning and managing their own stores, Molly Jackson was a Vice President of a national private banking organization, while David served as a wholesale representative for New Balance. As New Balance began opening retail stores in the early 2000s, the Jacksons became one of New Balance's first store owners/operators, enjoying rapid success. The Jacksons have received many honours, including being named Best Shoe Store in Sarasota for their New Balance operations and Best Gift Store for Molly's, as well as being the first recipients of New Balance's Chairman's Award. In addition, they have been recognized by Girls Inc. Sarasota and the Susan G. Komen Foundation.
Molly Jackson was the first female Chair of the New Balance Corporate Store Advisory Board. David Jackson is a certified pedorthist, sharing his knowledge via Shoe U, a six-week training program he created to teach employees about feet and customer service. They are also active in helping local non-profit groups.
Presenting the Retailer of the Year award were NSRA Chairman Mark Denkler (Vince Canning Shoes, Delray Beach, FL) and NSRA Vice Chairman Phil Wright (Vernon Powell Shoe Company, Salisbury, MD). Denkler commented: "Molly Jackson is one of the most talented, outgoing and involved retailers imaginable. David Jackson not only matches her abilities, but adds his own wonderful sense of humour to their partnership. It's a pleasure to work with them both, and to present NSRA's first Retailer of the Year Award to two people who make an outstanding team deserving of this high honour."

About NSRA
NSRA was founded in 1912 to represent independent shoe retailers and provide their companies with business services, education programs and information resources that help them remain profitable and on the leading edge of retail.