Register to continue reading for free
Matthias Rosenthal from TÜV SÜD talks about the industry, sustainability and the global value chain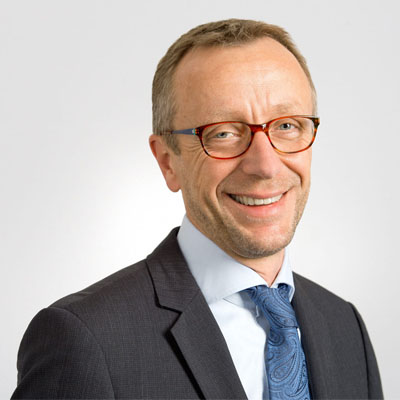 We spoke with Matthias Rosenthal, who has taken the position of Vice President Consumer Products (CPS) for TÜV SÜD's Business Line Softlines back in March, becoming responsible for the sustainable and profitable development of Softlines globally
Matthias Rosenthal, who has been with TÜV SÜD Product Service GmbH for five years, has retained the role of Business Development Director Europe, remaining responsible for developing European business and managing European sales of the Softlines, which comprises the product groups Apparel & Clothing, Footwear & Shoes and Home Textiles.

Within this business line, TÜV SÜD represents "brands and retailers in the implementation of minimum quality standards during the production order process to help them comply with the existing legal requirements in consuming countries". The group defines and employs, then, the required quality services, such as testing, pre-shipment inspections on-site at factories and audits; it also issues certificates under all the main national and international standards.

Regarding this new role, Mr Rosenthal expects to represent the German company as a solution provider in a more intricate setting: "Even before 2020, fashion manufacturers and the fashion industry were subject to intense pressure, and they have taken an even heavier hit in the current times of pandemic. In addition, major challenges concerning sustainability-related themes are looming for the future, such as the use of recycled materials and the Supply Chain Act in Germany and teh planned at EU level".
Mr. Rosenthal began his career in the textile and leather industry as Purchasing Director in 2000, before moving to STR labs in 2004, as Key Account Manager. Five years later, as Managing Director for the STR lab in Switzerland, he acquired expertise in test laboratory service management throughout the supply chain. In 2012, he became Head of Sales at UL (STR), being responsible for the DACH region and global consumer product business.

Supply Chain Act
The COVID-19 pandemic has turned our attention to the global supply chain, as disruptions have been causing delivery delays and shortage of goods worldwide. As a service provider for the industry, TÜV SÜD has "followed closely the global delivery bottlenecks" and sustains that more transparent and fair supply chains have helped minimize "the risk of delivery problems".





Ultimately, the Supply Chain Act, which will become effective in 2023 for Germany-based companies or German-registered branches of foreign companies with more than 3 000 employees, also advocates for transparency, but in the global value chain, to make violations of human and environmental rights more apparent.





Mr. Rosenthal noted: "we have been observing this legislative initiative since the beginning of the political debate and are currently in the so-called gap analyses, i.e., which additional points need to be added to the previous systems so that companies can also ensure conformity with this law". The Vice President of Consumers Products for Softlines adds six essential measures: company statement, risk management, risk analysis, remedy, complaint management and documentation.




Digitalization
Digitalization is a part of TÜV SÜD's corporate strategy until "2025 Next Level Together". In the same degree that the COVD-19 pandemic has made us examine closely the supply chain, it has also shown "that efficient and digitally supported processes are necessary to ensure global economic activity". Even so, Mr. Rosenthal notes that "the degree of organization of Softlines producers in the developing countries must be considered, i.e., to what extent these processes can also include their activities", as "infrastructure issues, such as internet availability, stable power grid and employee training should be mentioned here as well".







Sustainability
Sustainability is a topic that has been in our everyday lives for quite some time. Mr. Rosenthal believes that "environmental awareness has arrived in the middle of society, and more and more people are campaigning for it". It is progressively affecting the economy, running through every industry and influencing entire markets.





As an "integral part of our lives", sustainability has become a real concern for the industry. Nevertheless, Mr. Rosenthal argues that the "question now is to find the real definition of sustainability for buyers and producers" because "this claim encompasses the entire Global Supply Chain". So, it has become necessary to define new standards for individual steps that can be carried out towards a more sustainable path.





According to Matthias Rosenthal, one of the main focuses of TÜV SÜD is to verify compliance with and implementation of accepted standards. For example, the company ensures that during the production process, there is no greenwashing. Furthermore, it advises its customers to not regard sustainability merely as a "must", but as an "opportunity to develop new products and services with the aim of economic success".







Future Challenges
Looking ahead, Mr. Rosenthal points out the "ongoing trend of regulation of the market surveillance of consumer goods, the return of states to their own standards and additional legislative initiatives, such as the German Supply Chain Due Diligence Act". The global network of laboratories will have to ensure compliance with these laws during production.





Regarding the future of the footwear's industry, Mr. Rosenthal highlighted the prominence of the digital, which was accelerated by the COVID-19 pandemic and brought an entire new logistic process with it, and the consumer demand for sustainable products, turning away from the leather. These issues will require production relocations, and the "trend continues" to be "to outsource these to more favourable regions (like Cambodia, Myanmar, Bangladesh), Nevertheless, "minimum requirements must be implemented right from the start".