Manolo Blahnik and Liberty London in collaboration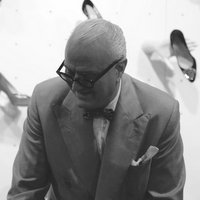 Manolo Blahnik, who has a new book named Fleeting Gestures and Obsessions, is also celebrating its partnership with the London-based department store



Blahnik admitted to be very content with this partnership, as his connection with the store goes back many years to his youth. From the time he first visited it and "felt in love right away". The traditional look of the space, the history and soul, the beautiful architecture, the wooden interiors and the calm l atmosphere make the store cozier than the common department stores, which captivated Blahnik's attention and care.
Coinciding with Liberty London's 140th anniversary, Blahnik lauched his new book Fleeting Gestures and Obsessions and unveiled the exclusive collaboration with Liberty London.
In addition to exclusive photos from Blahnik's extensive 4 decades long archive, the book includes contributions from personalities such as Pedro Almodovar, Sofia Coppola and Mary Beard, in a rare journey into Blahnik's inspiration.
For this collaboration with Liberty, the famous fashion designer reworked his Swarovski crystal-embellished Nadira pump and Nadi clutch bag using one of the most recognized Liberty Art Nouveau prints, the Hesketh (dating back to 1896). The limited-edition Nadira shoe is priced at 750 pounds while the Nadi handbag costs 1 550 pounds.

Image credits:
Courtesy Image