Lavoro with innovative boot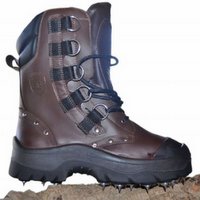 Portuguese-based company ICC - Lavoro launched a new type of boots intended for the timber industry, developed after a challenge presented by a New Zealand customer
The new product by the professional footwear company was named
Log Gripper
and incorporates a pitons system of adjustable steel to the sole of the boot, which promises to help lumberjacks and loggers to stand up, even in the most extreme conditions.
What started as a challenge by a New Zealand-based customer has developed into a new type of product, already being ordered by customers from places such as Spain, the UK and the Scandinavian countries. The company expects to market more than five thousand pairs of
Log Gripper
boots until the summer of 2017. The average market selling price will be around 250 euros.
For the development of the new boot the Lavoro's Foot Science Center (SPODOS) had a strong contribution. Coordinated by a podiatrist SPODOS has competencies that allow the company to be able to characterize the requirements of different working environments; to choose the most suited footwear for the employees of each company; to find the best technical solutions; to look into appropriate materials and optimize production; to ensure maximum quality of the final product and monitor their on-site efficiency, in order to enhance its accuracy.
Celebrating 30 years of activity, ICC-Lavoro creates professional footwear solutions for many different professionals and different business sectors, such as electronics, transport, hospital, construction, mineral extraction, agriculture, logistics, metallurgy, fire services and forces militarized, among others.
The company exports more than 80% of its production to countries such as Germany, UK, Benelux, Switzerland, Mongolia, Qatar, Oman, United Arab Emirates, Nigeria, Egypt and Zambia, just to name the main ones amongst 70 different destinations.
For more information about ICC - Lavoro please refer to the
company's website
.