Hermès continues with earnings growth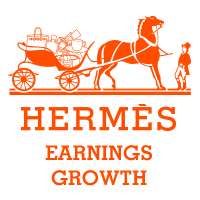 In the first half of 2014, the group's consolidated revenue totaled 1 907 million euros, an 8% rise (+12% at constant exchange rates). Operating income amounted to 621 million euros (33% of sales) and net income rose by 8%

Hermès
' turnover increased in all regions of the world during the first six months of the year. Despite the particularly difficult economic context, Europe generated a good performance with a +7% growth. Japan, with a +11% increase in sales, continues to improve after an exceptional first quarter (benefit from early purchases linked to increased prices and higher VAT). The company considers the first half-year "excellent in America" with a +13% variation in revenue generated in that region. Asia excluding Japan (+17%) is maintaining its dynamism across all countries.
Growth of Leathergoods and Saddlery (+13%) was supported by the ramp-up of the production capacities in the two new sites that opened in 2012, namely in Isère and Charente. Ready-to-wear and Accessories (+16%) benefited from the success of its latest collections, notably in fashion accessories. The Silk & Textiles sector (+11%) and Perfumes (+8%) also had a good performance. The Watches segment was the only one presenting a decrease in revenue, -7%, reflecting difficulties, mainly in China. Other Hermès sectors (+18%), including Jewellery, Art of Living and Hermès Tableware, are continuing with their development.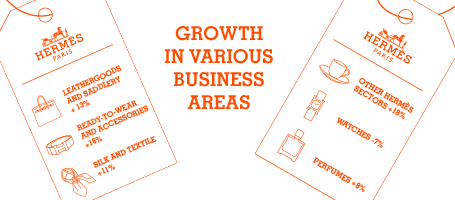 Operating income totaled 621 million euros versus 584 million euros in the first half of 2013. Operating margin (32.6% of sales) remains close to the all-time highs achieved last year. The small decrease versus the first half of 2013 (33.1% of sales) results mainly from the negative currency impact. Consolidated net income totaled 413 million euros, an 8% rise.
In terms of outlook for the entire year, the group is retaining its mid-term objective of revenue growth at constant rates of around 10%. Operating margin should be lower than the all-time high achieved in 2013 (32.4%) due to the negative currency impact.
The company stated they "will continue its long-term strategy based on creativity, maintaining control over its know-how, expanding its distribution network, strengthening its production capacity and securing its sources of supply."
Hermès International
is a group specialized in designing, manufacturing, marketing and distributing luxury products. The group is active in more than a dozen sectors, namely, leather goods and saddlery, men's and women's ready-to-wear, footwear and silks and textiles. Its products available worldwide through a network of more than 300 exclusive stores, and through networks of specialized stores and in airport duty-free stores. The group also owns 46 production units (35 in France) spread across 39 different sites.
Company's shares were last traded at 243.70 euros on the 8th of September at the NYSE Euronext Paris.
For more information about Hermès please visit the
company's website
.