Fly London presents Interstellar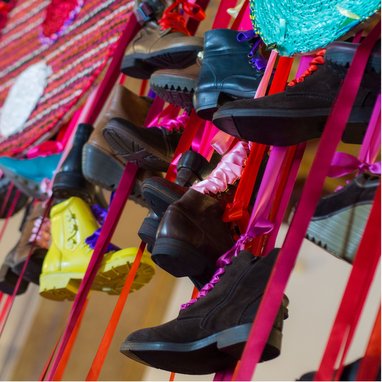 This collection is the result of a partnership between the famous footwear brand and Portuguese plastic artist Cristina Rodrigues
Available in four colors (blue, camel, brown and black) Interstellar stands out in Fly London's catalog for its satin ribbons instead of traditional laces, a reference element in the works by Cristina Rodrigues and a distinguishing detail.

The brand, part of the Kyaia group, recalls that "every day, hundreds of thousands of urban walkers choose Fly London footwear as their main means of transport."

Inspired by the importance of shoes for urban generations, Cristina Rodrigues conceived Urban Dwellers, a large-scale contemporary art installation presented by the artist in the autumn of last year in Seville. Following the original partnership that "brought together industry, fashion and art, the logical next step was to collaborate on a Fly London product". Interstellar materializes this intention.

Amílcar Monteiro, one of Fly London's founding partners, believes that Cristina Rodrigues "introduced a certain traditionalism in design, while the inclusion of unexpected elements such as satin ribbons instead of laces, as well as large gold eyelets, resulted in a boot that proudly bears the genetic code of Fly London footwear".

About the debut of drawing a piece of footwear, the Portuguese artist and architect reveals that "it was a challenge and an honor to be able to design a product for one of the most relevant Portuguese footwear brands."