Fashion dictates rules in Japan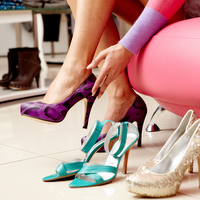 Japanese consumers are looking for avant-garde footwear.
The first priority for consumers in Japan is footwear design, coupled with quality. Japanese consumers are looking for avant-garde footwear, innovative and colorful, yet accompanying the main fashion trends. Price isn't a concern. Comfort in footwear, for example, has gained dominance in Japanese market.
In 2012, Japan was the fifth largest importer of footwear, and the tenth in leather shoes. Between 2008 and 2012 Japanese imports grew at a faster pace than that of world imports of footwear (11.1% on average per year, versus 8.8%).
Japan in a Portuguese route?
According to the AICEP study, Japan has presented great opportunities for European footwear, especially for good design and quality.
Portuguese footwear with good design and competitive prices "has attracted the attention of the Japanese retail sector, as well as clothing stores and multi-brand stores" the study reveals. Portuguese footwear has good design and colors to its side, which the Asian market can't produce.
Specific production of leather footwear located mainly in Tokyo and Osaka has been losing strength, recording a decrease of about 33%. With the added difficulty of competing against the design and strength of European footwear, and taking into account the aging of the Japanese population, companies are migrating their production to meet this new market niche. Thus, the production of leather shoes in Japan has focused on high-comfort footwear directed the elderly, now focusing their attention on quality and comfort.