Expo Riva Schuh & Gardabags on track to normality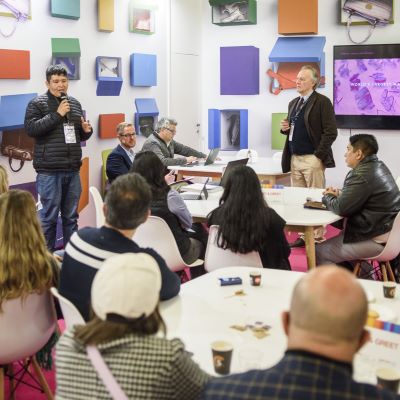 The January 2023 edition of the trade fair welcomed over 8 600 attendees from 100 countries. The organization claims that the event is "coming back into the light" after the difficult pandemic period
"We close this edition with a smile. The uncertainty into which Covid threw the entire industry has finally dissipated. Expo Riva Schuh & Gardabags has once again become the crucial business platform for all those who want to buy and sell footwear and leather goods on a global scale. Numbers do not always tell the whole story, but in this case, they help to explain what our satisfaction and optimism for the future is based on", commented Roberto Pellegrini, Chairman of Riva del Garda Fierecongressi.

Between the 14th and the 17th of January 2023, 8 610 people coming from more than 100 countries attended the international trade fair, with visitors from outside Europe up by 5% as a percentage of the total. The organization stressed the growth in visitor numbers from Latin America, South-East Asia and North America, and noted that "the influx of buyers from Israel was a nice surprise, while the number of Italian visitors also increased". The event was also visited by ten governmental institutional delegations, namely, from India, Turkey, Spain, Portugal, Indonesia, Côte d'Ivoire, Hong Kong, Italy, and the Chinese regions of Sichuan and Wenzhou. According to La Conceria, while operators feel that pre-pandemic levels have not yet been reached, this edition was much better than those held in the past two years.

In an edition focused on sustainability, market focuses and retail innovation, the 98th Expo Riva Schuh & Gardabags emerged as an opportunity for buyers to diversify their sourcing. "One consideration stood out above all others" – pointed out the Exhibition Manager GianPaola Pedretti – "the situation regarding the prolonged shutdown of Chinese and Asian production and logistical difficulties is now returning to normal, but what happened during the pandemic has prompted buyers from all over the world to diversify their sourcing. They have all found in Expo Riva Schuh & Gardabags the ideal platform at which to make contact with a wide range of suppliers, something that, in their opinion, is not offered at any other show".

The next edition, dedicated to spring/summer 2023, is scheduled to take place from the 17th to the 20th of June 2023.

Image Credits: exporivaschuh.it