Dr. Martens launches deadstock collection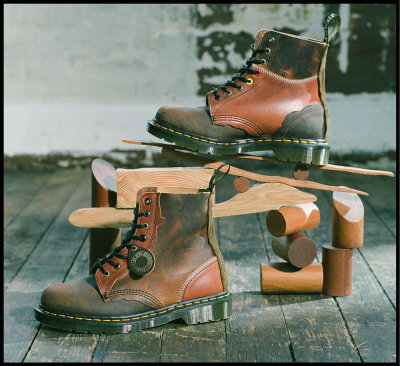 The British label has launched the Made in England Deadstock collection, using high-quality surplus leathers from a range of tanneries, as part of the company's waste reduction commitment
Dr. Martens' handcraft and leather specialists at DM's Northamptonshire factory will blend in leather surplus from different sources and areas of the cowhide, according to the principles of maximum use and minimal waste, to construct high-quality Deadstock boots and shoes, with a patchwork aesthetic and a different finish on each, like exaggerated stitching, colour variation, unfinished edges, and mismatched, hand-punched eyelets.

"The Deadstock Collection wouldn't be possible without the high-quality leathers we use across our entire Made In England range. Our tanneries send whole cowhides, which are patterned and cut by skilled craftspeople aided by the latest technology. But even this fusion of man and machine and the nature of material buying can lead to excess materials", reads the website.

Then, the 1460 eight-eyelet boot is made from several types of leather from renowned tanneries, including Desert Oasis suede, Classic Oiled Shoulder and Wax Commander from C.F. Stead (UK) and Dublin leather from Horween (Chicago). Each type of leather serves a different purpose, despite featuring brown and tan shades to create a coherent look. The 1461 shoe, instead, was reimagined with contrast base Quillon leather with soft Desert Oasis suede and classic Split Suede from Leeds-based tannery C.F. Stead.

Image Credits: drmartens.com