DLM Leather Museum presents a new Roger Vivier's exhibition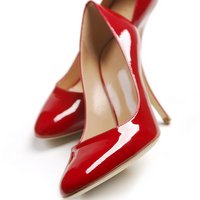 The DLM Leather Museum Offenbach, in Germany, combines three museums under the same location: the Shoe Museum (housing a collection of international footwear covering several millennia), the Museum for Applied Art (gathering crafts and design that cover a wide period of history, from the Middle Ages to the present days, and with a special emphasis on leather products) and an Ethnological Museum (organised in three departments – Africa, America and Asia).
The German Shoe Museum in the DLM, housing 15.000 artefacts, is a representation of international costume history over the millennia and allows a view into humankind's intellectual und cultural history. 3.500 year-old sandals from Egyptian mummy burials, boot amulets and shoe-formed containers of 8th pre-Christian century Luristan, bead-embroidered moccasins from the Great Plains, chopines of the Italian Renaissance, Chinese gin lien, plateau sandals out of an Ottoman harem, the silk boots of Empress Sissi and Joschka Fischer's trainers are some of the gems in exhibition. The reconstructed mountain shoes of the Oetz Valley mummy are a new surprising acquisition: finely sewed leather mules with a robust inner lining of fibre strings and filled with hay. The Museum also houses a gallery, presenting several hundred images of shoemakers and their products.
Roger Vivier (1907–1998) was a French fashion designer specialized in shoes, accredited with developing the modern stiletto heel. In his creations he used a combination of materials, such as silk, pearls, beads, lace, appliqué and jewels and his shoes were frequently described as extravagantly richly-decorated. Vivier designed shoes for Dior in the 50s and 60s and in 1967 the world met his most famous creation, the iconic pilgrim pumps worn by Catherine Deneuve in the film "Belle de Jour".
The Roger Vivier exhibition at the DLM will run from the 22nd of March to the 2nd November this year.
For detailed information about the museum and its exhibitions you can visit the website:
DLM Leather Museum Offenbach