Deutelmoser explains GDS move to September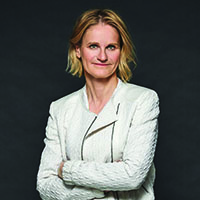 For the summer event Messe Düsseldorf and the Advisory Board have agreed on new dates placing the trade fair closer to the actual season. We have spoken to Kirstin Deutelmoser to better understand the reasons for the change
When questioned about the causes behind this change in the calendar, Kirstin Deutelmoser, Director of GDS stated: "It is very important these days to react on changing market conditions. There are great insecurities in the market sphere at the moment. After the last shows, we knew that we need to adjust our concept. We knew that we need to communicate intensively with the entire sector to get to know their demands, necessities and requirements. We did that before, but the dynamic in this sector is incomparable and the changes occur constantly. That's why we need to quickly adopt new developments. Since we, as GDS are a reflection of the market, we need to also reflect the sector. The sector made the decision for these changes and we depict this development".
The ever changing environment of the footwear industry is being impacted by significant uncertainty in the businesses, challenging consumers' behavior, the appearance of online-only players and vertical operations and changes in the traditional retail structures.
This change in the dates of the Summer edition follows a previous adjustment in the calendar when three years GDS was pitched as a communications and information platform at earlier dates. Now, besides having GDS as an important basis for exchange of information, the management wants to move the event closer to the season. The main objectives of changing the dates are summarised by Kirstin Deutelmoser in straightforward words: "The aim of changing the concept is to strengthen GDS as an important basis for exchange of information". She continued, explaining: "Of course we want to attract more visitors. On the one hand the industry wants to present its brand values at GDS but at the same time, placing and taking orders should move more centre stage. Regarding the market changes, the sector also feels that it is important to move GDS closer to the season. This is why we have decided together with the extended Advisory Board to hold the Summer 2017 GDS in early September. Furthermore, the trade show will be held from Sunday to Tuesday in order to also accommodate smaller-sized retailers."
The GDS Director added that although "Messe Düsseldorf is a reliable partner for the industry, we will react in the correspondingly flexible manner and actively co-manage change in the footwear sector although this may mean that we will probably have to opt for another venue."
The next edition of the GDS trade fair will be held from the 7th to the 9th of February, with over 700 brands expected to exhibit their international collections in the three lifestyle worlds HIGHSTREET, POP UP and STUDIO. Held concurrently with GDS will be tag it! with approximately 150 exhibitors.
For more information about GDS please refer to the
trade show website.