GDS positions itself as an extensive trends platform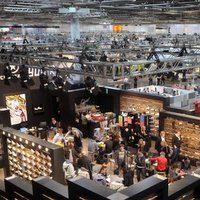 740 brands at GDS and 180 exhibitors at tag it! presented the trends for the coming Spring/Summer season in Düsseldorf. Both trade shows ran from the 26th to the 28th of July
For the first time all trends and innovations revolving around shoes were presented in Düsseldorf from Tuesday to Thursday. This made it possible to avoid clashing with Friday as one of the strongest retail-sales day allowing retailers to capitalise on the trade shows as best as possible.

According to the GDS organization, altogether approximately 12 500 retailers visited the two shoe trade shows.

Werner Matthias Dornscheidt, President and CEO of Messe Düsseldorf commented: "Neither the sector nor we can be satisfied with this visitor attendance. Which is why we have decided jointly with the Advisory Board to again intensely consult on the optimisation of GDS together with industry and retail over the next few weeks."

To position GDS as a trends platform and to offer more services seems to be the way. Director Kirstin Deutelmoser commented: "Personal exchange and the new collections are, of course, centre stage at GDS; but in challenging times new impulses are also key for the sector. This is why we are offering our visitors a multitude of services in these fields and aspire to be up to date."

An example of that was the workshop "Green Shoes for a Sustainable Life" containing a lecture on the results of the "Step to Sustainability" project as well as two panel discussions with key industry representatives, who presented and explained "Best Cases" for the footwear sector. Interested shoe manufacturers and retailers learned more about sustainability concepts in the footwear industry as part of a workshop organised by the European Confederation of the Footwear Industry (CEC) and its European partners to the "Step to Sustainability" project.

The next editions of GDS and tag it! will take place from the 7th to the 9th of February 2017 and from the 25th to the 27th of July 2017.