Crocs raises full year guidance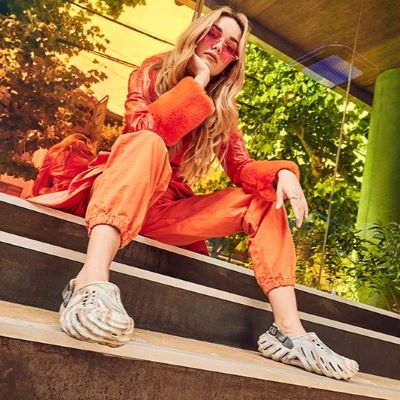 The US-based footwear company has raised its full year outlook as a result of a 34% revenue growth in the first quarter of 2023, as compared to the same period last year
"Our exceptional first quarter results are a testament to the strength of our brands. The Crocs Brand grew 19.0% as we see a strong consumer response to our new clog and sandal introductions. The Heydude brand is gaining momentum and experienced outstanding DTC growth", said Andrew Rees, Chief Executive Officer. "We are raising our 2023 revenue growth outlook to now be 11% to 14%, resulting in revenues of approximately 4.0 billion US dollars, reflecting our confidence in our ability to continue to gain market share, deliver best-in-class profitability, and generate strong cash flow", he concluded.

First Quarter Results
In the first quarter of the current fiscal year, the company's revenue increased by 33.9%, or 36.2% on a constant currency basis, reaching 884.2 million US dollars, on a comparable basis to the same period of 2022.





The Crocs brand contributed 648.8 million US dollars to the first quarter total revenue, reflecting an increase of 19.0%, or 21.6% on a constant currency basis, from the same period last year. By channel, the brand's wholesale revenue rose by 19.3%, or 22.4% on a constant currency basis, while DTC sales were up by 19.2%. The company also highlighted an international revenue growth of 31.8%, or 37.7% on a constant currency basis, in this period, as compared to 2022.





In turn, Heydude's revenue totalled 235.4 million US dollars, up by 104.8% as compared to the partial period beginning on the 17th of February 2022, the date of acquisition, through the 31st of 2022. Particularly, its wholesale revenue was 167.9 million US dollars and its DTC revenue amounted to 67.5 million US dollars.





The company's gross margin and adjusted gross margin in the first quarter of the year stood at 53.9% and 49.2%, respectively, on a comparable basis to the gross margin of 49.2% and adjusted gross margin of 53.9% recorded in a similar period of the prior year.





For the three months to the 31st of March, Crocs reported diluted earnings per share of 2.39 US dollars, as compared to 1.19 US dollars in the same period of last year, and adjusted diluted earnings per share increased by 27.3% year-over-year to 2.61 US dollars.




Outlook
The US-based company is expecting its second quarter revenue to increase approximately between 6% and 9%, as compared to the same period of the previous year, resulting in a revenue of about 1.03 billion US dollars to 1.05 billion US dollars at current currency rates.





Concerning fiscal 2023, Crocs raised its outlook, anticipating now a revenue growth between 11% to 14%, on a comparable basis to 2022, which should result in a revenue of 3.95 billion US dollars to 4.05 billion US dollars at current currency rates.








Image Credits: aspirelifestyle.co.za