Canada Goose introduces its first sneaker line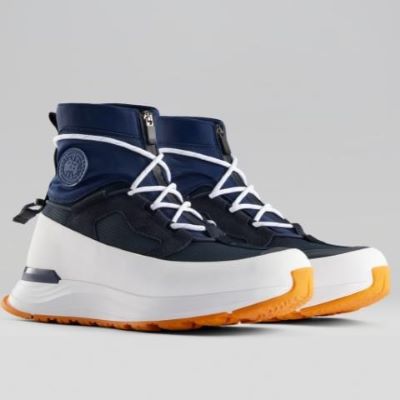 The Canadian-based luxury outwear brand is expanding its footwear offering with the launch of the Glacier Trail sneaker in both high and low-top silhouettes. It arrives in stores today
In order to meet consumer demand, explained Canada Goose's Senior Vice President of Footwear Scott Portzline to WWD, the company has decided to enter the sneakers business with the launch of a model that combines style, comfort, protection and stability. To this end, it made sure to take time to improve a "couple things" during the development process. The multi-seasonal Glacier Trail sneaker arrives now in stores in both high and low-top silhouettes for men and women in several colourways, aiming to be a luxury alternative to the traditional trail shoe.

"We were really focused on a hybrid relationship, delivering the protection and the performance that you'd expect from our brand. What makes these unique is the positioning around not performance or luxury, but both. We were adamant about striking a balance between those two, and that creates a certain structural tension in terms of the approach that we find interesting. It helps us elevate our products in a slightly different way", explained Scott Portzline.

The brand's first-ever sneakers therefore feature HDry interior waterproof membranes, as well as a breathable microfiber insole lining with temperature-regulating properties, and lightweight cushioned EVA midsoles and heel stabilizers for grip and stability on technical terrain. In addition, the uppers are crafted with protective rubberised leather linings for protection, a 360-degree lacing system and an elasticated collar for comfort in tough conditions.

Looking ahead, Portzline told WWD that Canada Goose is "certainly optimistic and excited about the amount of runway we have in this space. We're planning on evolving the line in interesting, meaningful and relevant ways over the next few seasons".

Image Credits: yahoo.com