Canada Goose steps into the footwear segment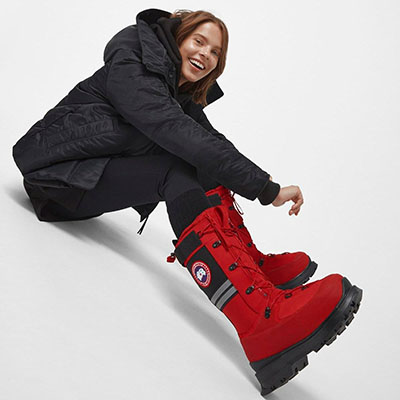 The Canadian-based luxury outwear brand will launch its first footwear line in November. The release is part of Canada Goose's "Beyond the Parka" growth strategy, aiming to turn the company into a fully-fledged lifestyle brand
The company made its first incursion into footwear with the acquisition of the Canadian footwear and outwear company Baffin in 2018. However, Baffin has continued to operate as a stand-alone company, as Canada Goose chose to leverage their knowledge of the footwear space, according to declarations of the company's CEO to Business of Fashion. Recently, executives who have previously worked at Sperry, Nike and Columbia Sportswear have also joined the luxury outwear brand.

"Part of the success of the Canada Goose brand is keeping it pure from the start. We started with the best outerwear and warmest jackets in the world and expanded out from there into other categories, like light-weight down jackets, knitwear and other apparel. With footwear, we are following the same playbook of starting small, taking our time to design the absolutely best product and launching the product in a thoughtful way", explained Canada Goose's CEO, Dani Reiss, to Forbes.

The company's first footwear line will comprise two boot models for both men and women, entirely waterproof and packed with high-tech performance attributes common to athletic shoes. The Snow Mantra boot is an insulated winter boot, manufactured in Romania, that can protect consumers in weather conditions as low as -30º. The Journey Boot, made in Italy, is a flexible hiking boot in leather that includes a removable foam insole. These models will be made available on the company's website, in its 30 branded stores and through established wholesale partners like Net-A-Porter.

Image credits: Forbes.com