Target and Hunter with limited-edition collection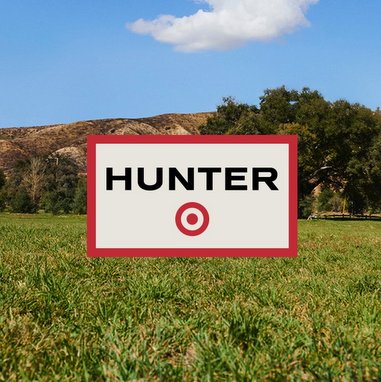 The Minneapolis-based discount store retailer and the British-based brand known for its iconic Original Wellington boot have set up a partnership to issue a spring lifestyle collection celebrating families, fun and the outdoors
Target
Corporation announced a
limited-edition spring collaboration with Hunter,
the British heritage brand founded in 1856 that is known for its iconic Original Wellington boot, protective outerwear, bags and accessories. The collection includes more than 300 items. It spans apparel and accessories for women, men, girls, boys and toddlers, as well as products for the home and outdoors – a number of which are a first for Hunter, such as hammocks, sunshades and coolers.
"Hunter has long been regarded for its
impeccable design aesthetic
, rich heritage and playful spirit, and based on our research, it's a brand our guests know and love. So a pairing between our two brands made perfect sense", commented Mark Tritton, Executive Vice President and Chief Merchandising Officer at Target, adding: "From the very beginning, we worked with Hunter to develop a well-designed, affordable collection that's all about fun, optimism and accessible adventure for the entire family. The colorful, all-weather pieces found in this line are made for enjoying the outdoors – rain or shine – on any budget."
Hunter for Target will be available from the
14th of April onwards
at select Target stores and Target.com. The collection reflects both brands'
innovative spirit
, shared sense of joy and optimism, and commitment to creating engaging experiences. Ranging in price from 5 US dollars-80 US dollars, with most items under 30 US dollars, the collection was designed to bring families and friends together to enjoy the outdoors. Also, in a first for Target's design partnerships, REDcard holders will receive early access to order exclusive colors in select styles on Target.com beginning on the 7th of April.
"Our partnership with Target provides a unique and very powerful opportunity for us to share the Hunter story and engage with a very broad audience in the US", stated Alasdhair Willis, Creative Director at Hunter, adding: "We share a similar spirit and brand values. In particular, our appeal to the entire family, and a spirit of joy, optimism and daily adventure. The partnership celebrates this and our connection to festivals and the outdoors."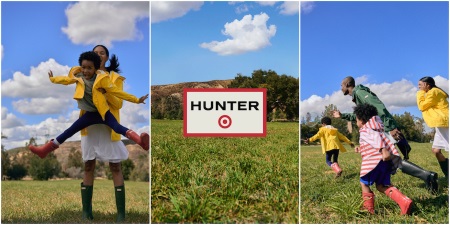 Founded in 1856 by an American entrepreneur in Scotland, Hunter (originally named North British Rubber Company) is a British heritage brand renowned for its iconic Original Wellington boot. In 2013, Alasdhair Willis joined the brand as Creative Director, introducing a new era of Hunter. Since Willis's appointment, the label has transitioned from a single product business, known almost exclusively for its Original boots, to become a multi-category business, expanding into all-weather pieces across the ready-to-wear, footwear and accessories categories. The brand's products are popular with festival-goers and today, Hunter is instantly recognizable on the festival fields of Britain and across the globe.
Target is a Minneapolis-based discount store retailer with a network of 1 822 stores around the US.