Register to continue reading for free
UK Retail: COVID-19 might be alleviating but there is still no sunrise for Retail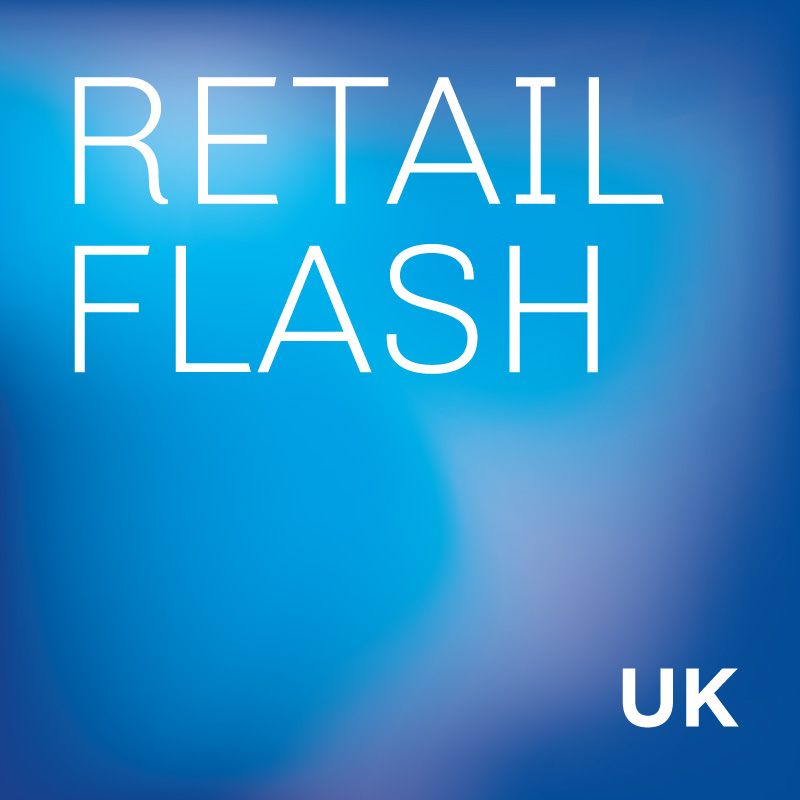 As vaccination levels increase and the restrictive measures are lifted the UK retail industry could be on the expectation that solid improvement would be on the way. However, Consumer Confidence has been fading away since July, and Textile, Clothing & Footwear store sales have been on a slide in the last few months. With the supply chain issues impacting the footwear industry and the lorries shortage, this could be a perfect storm for more bad news


Sunset for COVID, yet no sunrise for Retail
In our previous flash dedicated to the UK, using data up to April, all seemed to point to the fact that retail was no longer an hostage of the COVID-19 pandemic (
READ MORE HERE
). Consumer confidence through May was clearly on the same page, appearing as a game-changer for retail.
The question then was more related to how long would retail growth be sustainable with the pent-up demand accumulated being progressively absorbed? TCF (Textile, Clothing & Footwear) Retail data from May onwards quickly reacted with a four months slide in a row while preliminary signs for September seem no better.

"Pent-up demand and lockdown savings may have sustained growth this summer but supply chain issues and weakening consumer demand are beginning to bite", said Aled Patchett, Head of Retail and Consumer Goods at Lloyds Bank (as said to The Guardian).
Consumers: vaccinated… but not confident
Somewhat surprisingly, despite the ease of coronavirus restrictions Consumer Confidence has been fading away since July.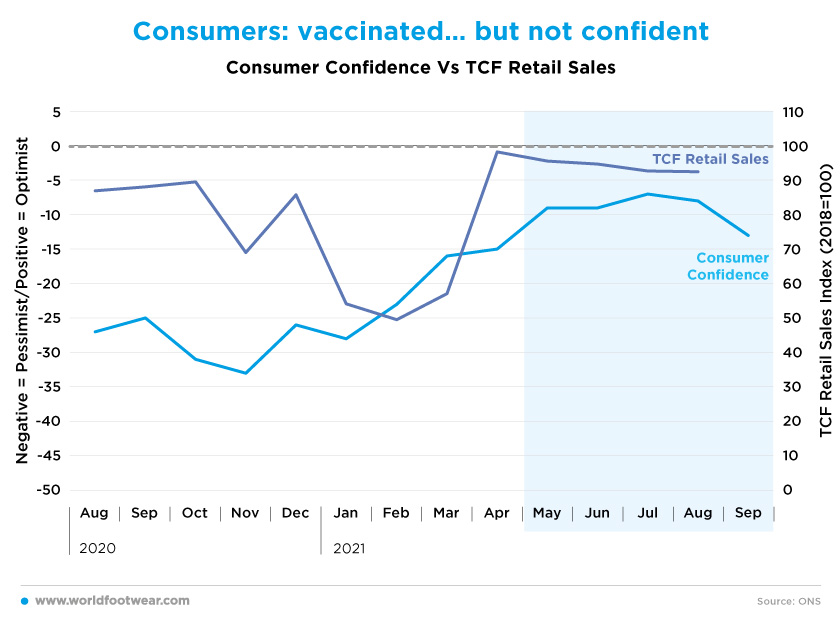 The Autumn COVID-19 surge may not be the sole culprit behind. The government stated the economic recovery was rebounding and it was time to end emergency support programs, such as the furlough scheme and the universal credit benefits. On top of that, many retailers are facing supply difficulties due to lorry driver shortage and more expensive imported supplies because of the Brexit process.


Brexit plus COVID: a perfect storm for footwear imports
Footwear imports (both from the overall world and from the European Union) seem to corroborate the difficulties sensed by retailers: comparing the second semester of 2020 to the first half of 2021, the imports value index clearly stumbled over the end of the transitional period of the Brexit process, despite the COVID-19 effect not being so much different.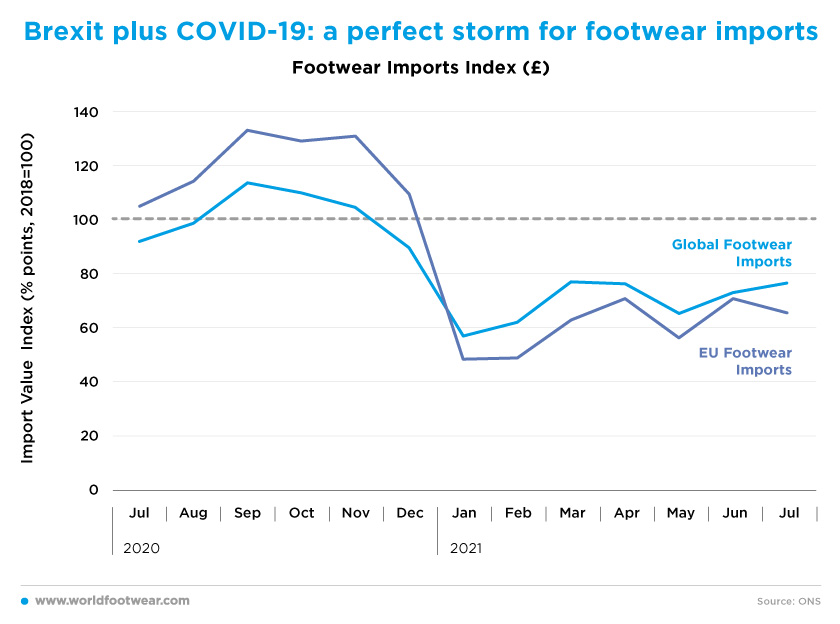 In 2020 short distance imports from the EU prevailed well above the baseline, while from the beginning of 2021 the single market superiority effect vanished. Still, alternative non-union origins were not so much better probably due to reported intercontinental supply chain problems.


High inflation is not footwear retail- friendly
Consumer Confidence might also have been hurt by annual inflation reaching 3.2% in August, a nine –year record, translating into bad news for retail.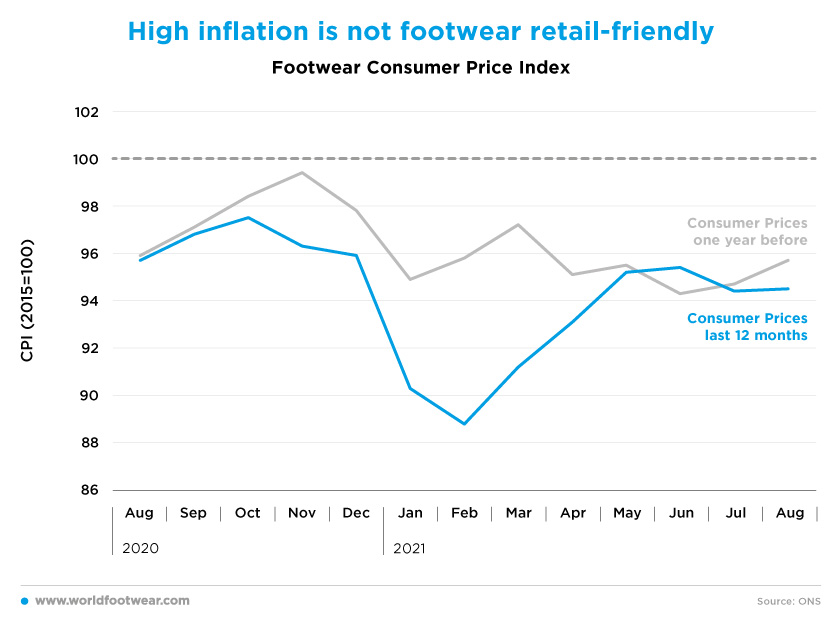 Simultaneously with the emergency support programs sunset "retail sales could come under further pressure because households' disposable income would decline in the coming months as inflation soars", as predicted by the Chief UK Economist at consultancy Pantheon Macroeconomics, Samuel Tombs.
The sudden reversal of the footwear consumer price recovery last July, in sharp contrast to what happened in 2020, means footwear retail could be among the first victims of consumers' faltering purchasing power.


A leapfrog effect for online footwear share
The free fall in April of the share of online sales in the TCF retail following the re-opening of all non-essential physical retail stores was a major challenge to the expectation that the online share could suffer somewhat but never return to level before the pre-pandemic.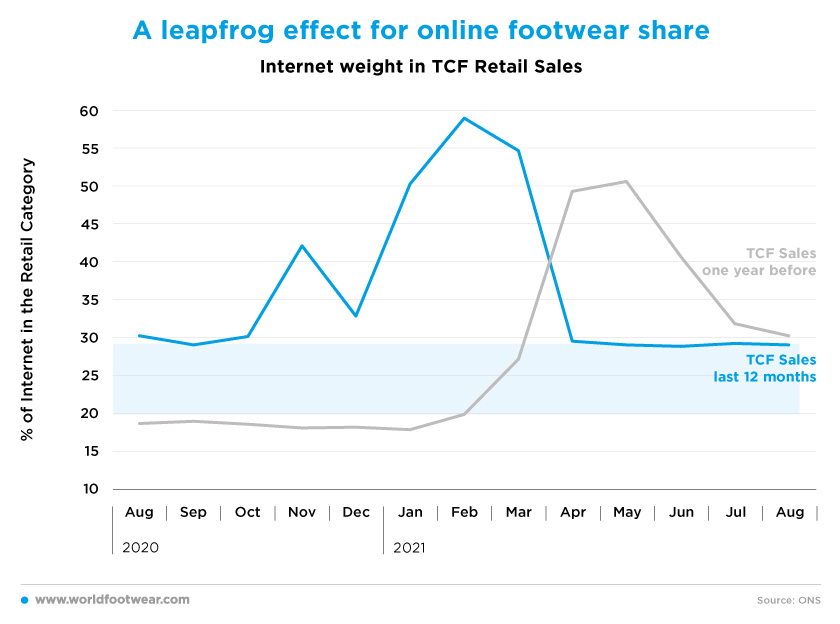 Still, ASOS, the online fashion firm announced a 60% rise of UK sales in the four months ended on the 30th of June, despite a reopening of physical stores, while profits were being squeezed by increased freight costs and global supply chain disruption caused by the COVID-19 pandemic and Brexit. And the company said they anticipate a measure of volatility to continue in the near term, given the rapidly evolving Covid situation worldwide (as quoted by Shoe Intelligence).

"A slower pace of online sales was expected as retail reopened", commented Susannah Streeter, markets analyst at Hargreaves Lansdown, but referring to British shoemaker Dr. Martens' performance she added "there are worries the company will be hit by further shipping delays which could disrupt operations" (Shoe Intelligence).
While in September, a Hotter Shoes' source stated "consumers are shopping very differently now, with a heavy reliance on e-commerce; and we expect that trend to continue alongside the re-adjustment of high street shopping, which will be much more experience-led going forward."
In our last flash we have bet that a leapfrog effect of 10 percentage points of the online share was sustainable. And so far, despite the end of all restrictions, that gap has been maintained through August. This suggests that a share of about 30% could be the starting point for a new post-COVID-19 cycle in footwear trade between online and physical retail.
Lucy Reece-Raybould, Chief Executive at the British Footwear Association, is confident about the future evolution: "We remain positive at the BFA for the UK footwear sector. While this latest downbeat reading shows a stalled expansion in year-to-date sales of footwear and leather goods, indicators are that full-year sales remain on track to rebound, albeit not as robustly as expected earlier. And while footwear and leather goods sales will struggle for growth in coming months, we do expect overall sales to remain on track to expand in 2021 versus last year. A positive overall sign for the sector, which is also anecdotally supported by a noticeable increase in both office workers and tourists visiting London retail stores finally".