FDRA's Global Shoe Sourcing Digital Series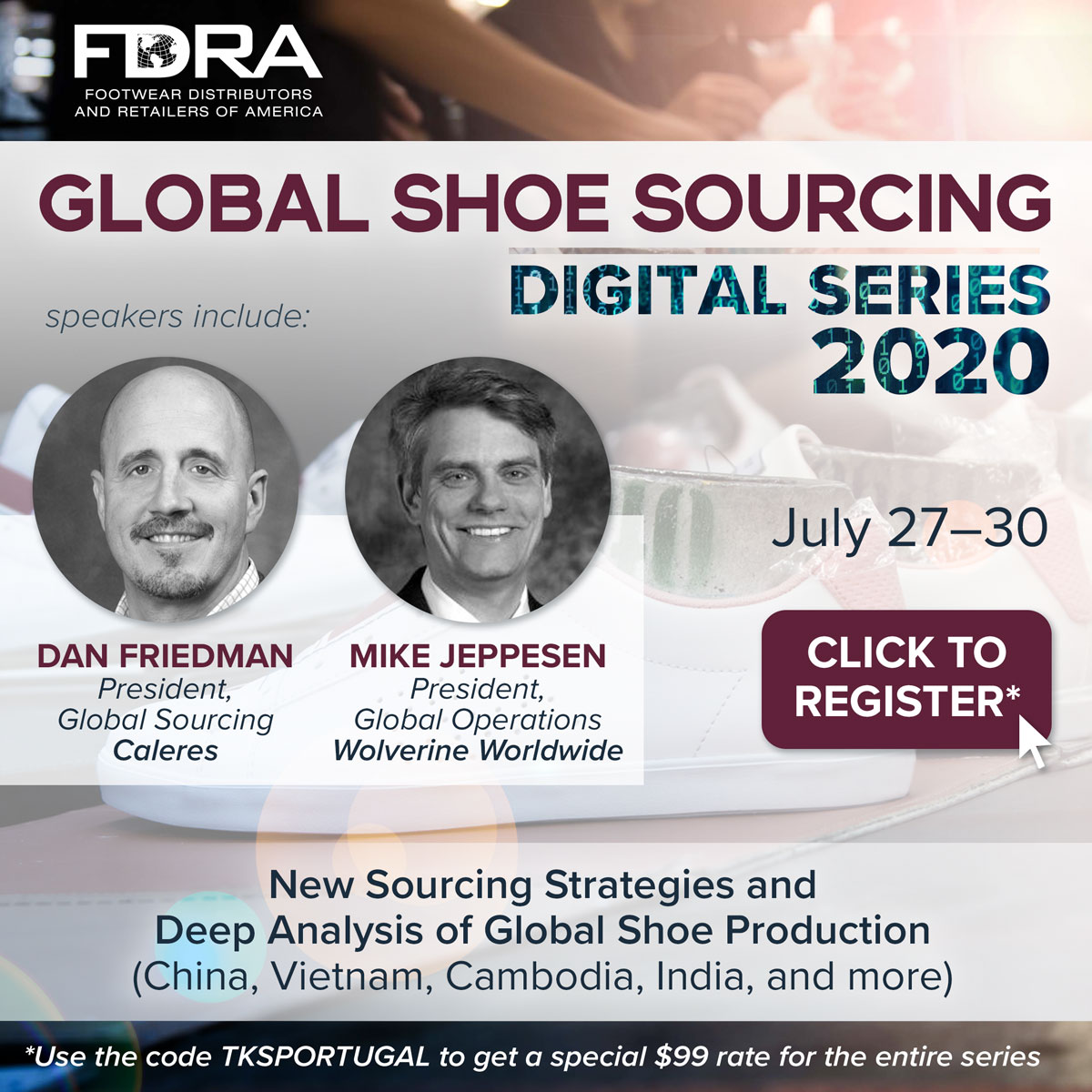 The Footwear Distributors and Retailers of America (FDRA) is running a digital series on Global Shoe Sourcing. The series will be held from the 27th to the 30th of July. We bring you all the info about the event
Who can Attend?
Anyone can enrol to participate. The FDRA encourages American and European footwear retailers and brands, as well as factories to register and attend a 4-day series where exclusive new video content and data reports will be presented and can be viewed at each person's own pace each day (with continual access to the content for 6 months afterwards). Expected attendees include sourcing executives, production managers, factory owners and supervisors, product development managers, designers, agents, consultants, supply chain directors, and compliance professionals.


What to Get Out of It?
- FDRA's exclusive in-depth global shoe sourcing data and analysis on top sourcing countries for shoes, as well as marketplace sales data for America, Canada, and top European countries to show demand;
- Access to exclusive video interviews of top souring execs and experts sharing real-time production and supply chain strategy and best practices during COVID, providing you with extremely valuable intelligence to improve your operations and strategy;
- Exclusive access to at least 2 live webinars during the series with Wolverine Worldwide and Caleres' top sourcing executives discussing global trends and answering your top questions;
- Join an exclusive virtual networking event where brands and factory leaders around the globe will be connecting;
- Access to the series' exclusive data and videos remains for 6 months so you can return to the analysis as needed to help your business.


How will the Digital Series run?
The series will be held from the 27th to the 30th of July 2020. Attendees can join from anywhere around the world and get access using a laptop, desktop, phone or tablet. World Footwear readers can register now, using the discount voucher TKSPORTUGAL to get a discount. Attendees will get a your user name and password, and return to the site each day of the series to login and access content and data. The online series allows attendees to enter the event several times each day of the series to view new videos and review trade data at your own pace. The content will remain in place for 6 months for continual access.


Speakers & Agenda