Publications
World Footwear Yearbook 2017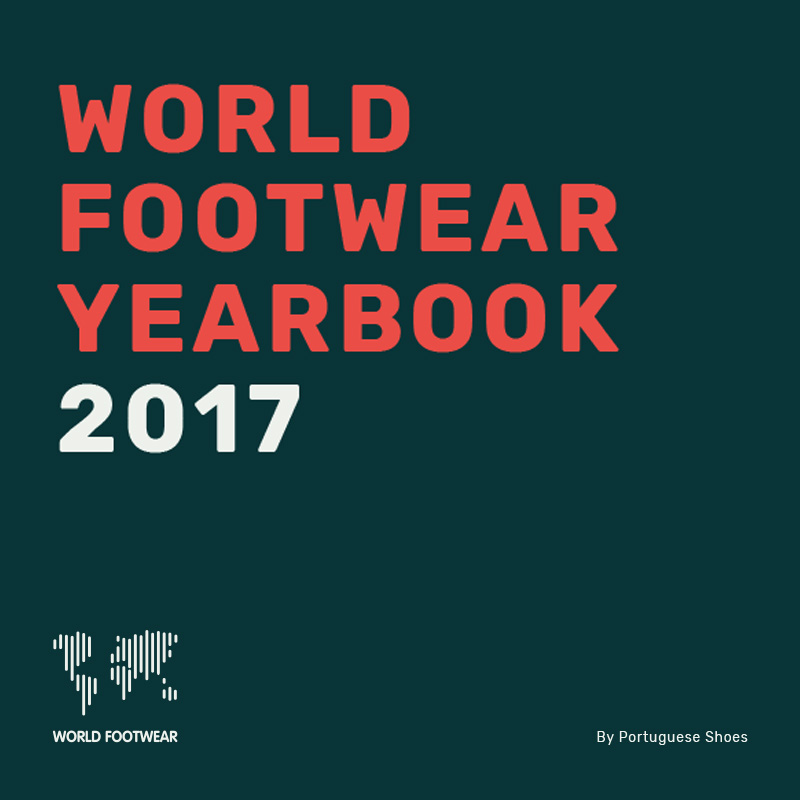 It is the seventh edition of a report that analysis the great trends within the footwear sector around the world. Statistics are presented to year 2016 both in quantity and value as well as the evolution of the main world players in this sector.

The aim of this publication is to analyze the position of relevant countries of the footwear sector at a world level in terms of the different variables (Production, Exports, Imports and Consumption) and evaluate the strategic positioning of the different sector players.

Additionally, this publication includes a profile of the footwear industry/market in dozens of countries.

Contents
World Footwear
The Dynamics of International Trade
Geographical Patterns
Product Mix
The Big Players
Top 5 Exporters by Continent
Top 10 Exporters by Product Type
Country Profiles
World Data Map
List of Country Profiles
Albania
Algeria
Angola
Argentina
Australia
Austria
Bangladesh
Belarus
Belgium
Bosnia Herzegovina
Brazil
Bulgaria
Cambodia
Canada
Chile
China
Colombia
Costa Rica
Croatia
Cyprus
Czech Republic
Denmark
Egypt
El Salvador
Estonia
Ethiopia
Finland
France
Germany
Greece
Guatemala
Hong Kong
Hungary
India
Indonesia
Iran
Ireland
Israel
Italy
Japan
Kazakhstan
Korea, Rep.
Latvia
Lebanon
Lithuania
Luxembourg
Malaysia
Mexico
Morocco
Netherlands
New Zealand
Norway
Pakistan

Panama
Paraguay
Peru
Philippines
Poland
Portugal
Romania
Russian Federation
Saudi Arabia
Serbia
Singapore
Slovakia
Slovenia
South Africa
Spain
Sweden
Switzerland
Thailand
Tunisia
Turkey
Ukraine
United Arab Emirates
United Kingdom
United States
Venezuela
Vietnam


List of Tables, Charts & Maps

World Footwear 2016
[Chart 1 - World Footwear Production (Quantity) 2010-2016]
[ Map 1 - Distribution of Footwear Production by Continent (Quantity) 2016]
[Table 1 - Top 10 Footwear Producers (Quantity) 2016]
[Chart 2 & Map 2 - Distribution of Footwear Consumption by Continent (Quantity) 2016]
[Table 2 - Top 10 Footwear Consumers (Quantity) 2016]
[Chart 3 - Distribution of Footwear Exports by Continent of Origin (Quantity)
2010-2016]
[Table 3 - Top 10 Exporters (Quantity) 2016]
[Chart 4 - Distribution of Footwear Imports by Continent of Destination
(Quantity) 2010-2016]
[Table 4 - Top 10 Importers (Quantity) 2016]

Dynamics of Internacional Trade
[Chart 5 - World Footwear Exports 2006-2016]
[Chart 6 - World Average Export Price 2006-2016]

Geographical Patterns
[Chart 7 - Share of World Exports (Asia & Europe) 2006-2016]
[Chart 8 - Share of World Exports (Other Continents) 2006-2016]
[Chart 9 - Share of World Imports (Asia, Europe & North America) 2006-2016]
[Chart 10 - Share of World Imports (Africa, Oceania and South America) 2006-2016]
[Chart 11 - Average Export Price by Continent 2006-2016]
[Chart 12 - Average Import Price by Continent 2006-2016]
[Chart 13 - Intra-continental and Extra-continental Exports (Value) 2012-2016]
[Map 3 - Geographic Patterns of Footwear Trade (Value) 2012-2016]

Product Mix
[Chart 14 - Share of Exports by Type of Footwear (HS 4 digit) 2006-2016]
[Chart 15 - Types of Product Exported by Continent 2006-2016]
[Chart 16 - Average Price by Type of Product 2006-2016]

The Big Players
[Table 5 - World Top 20 Producers (Value) 2016]
[Chart 17 - Average Export Price among Top 20 Producers (2016)]
[Table 6 - World Top 20 Consumers (Value) 2016]
[Chart 18 - Average Import Price among Top 20 Consumers (2016)]

Top 5 Exporters by Continent
[Table 7 - Top 5 Exporters in Africa 2016]
[Table 8 - Top 5 Exporters in Asia 2016]
[Table 9 - Top 5 Exporters in Europe 2016]
[Table 10 - Top 5 Exporters in North America 2016]
[Table 11 - Top 5 Exporters in Oceania 2016]
[Table 12 - Top 5 Exporters in South America 2016]

Top 10 Exporters by Product Type
[Table 13 - Top 10 Exporters of Waterproof Footwear (HS 6401) 2016]
[Table 14 - Top 10 Exporters of Rubber & Plastic Footwear (HS 6402) 2016]
[Table 15 - Top 10 Exporters of Leather Footwear (HS 6403) 2016]
[Table 16 - Top 10 Exporters of Textile Footwear (HS 6404) 2016]
[Table 17 - Top 10 Exporters of Other Footwear (HS 6405) 2016]