Publications
The US-China Trade War Potential Impacts on Footwear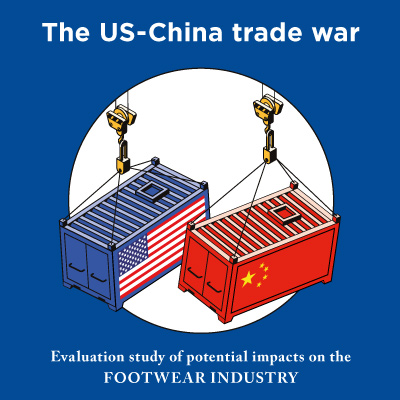 Evaluation study of potential impacts on the FOOTWEAR INDUSTRY
Publication issued in 2019 when the US-China trade war was at full speed, with new chapters succeeding themselves in a rapid chain of events.

Background
Even if the process was not continuous or linear, for most of the twentieth century there was a trend towards the progressive integration of markets that paved the way to an unprecedented rise in living standards worldwide.
The establishment of a multinational framework to regulate and facilitate international trade – through the General Agreement on Tariffs and Trade (GATT), first, and the World Trade Organization (WTO), later – was a cornerstone of this process and allowed a dramatic decrease of barriers to trade, especially tariffs. In the US, for example, the duties collected on dutiable imports fell from 49.2% in 1900 to 4.8% in year 2000.
The US were among the key proponents and supporters of the liberalization of international trade. However, with the election of President Trump, this country's stance seems to have changed. The US have recently been increasing tariffs selectively, targeting specific products and countries, renegotiating trade agreements, and President Trump has claimed that "trade wars" are beneficial and can be easily won. Many fear that the current apparent preference of the US for bilateral negotiation of trade issues may jeopardize the multilateral framework that, its limitations notwithstanding, has been so successful.
This paper analyses the relevance of these developments for the footwear industry. It starts with a brief description of the recent changes in the US trade policy (section 1), followed by a presentation of the main results in the economic theory on trade tariffs (section 2) and a summary of recent studies that have tried to quantify the impacts of the ongoing changes in trade policies around the world, particularly in the US (section 3). Finally, section 4 discusses the potential effects of an extension of the US-China trade war to the footwear industry.

Contents
Recent developments in the United States trade policy
Economic theory on the impacts of tariffs
Quantitative estimates of the impacts of tariffs
Potential effects of the US-China trade war on the footwear industry
References