World Footwear Congress to gather the footwear industry in Istanbul next November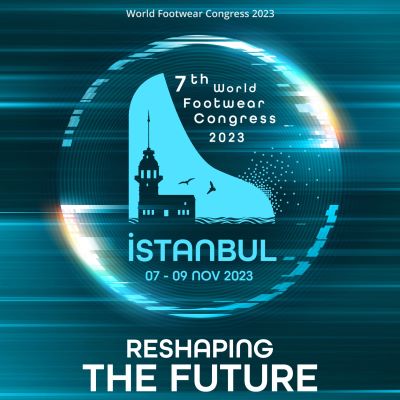 The World Footwear Congress will be held from the 7th to the 9th of November in Istanbul under the theme "Reshaping the Future". The programme is now available
After being postponed due to the earthquakes that occurred in Türkiye and Syria on the 6th of February, the organizers of the World Footwear Congress (WFC) - namely the Footwear Industrialists Association of Turkey (TASD), the Turkish Footwear Industry Suppliers Association (AYSAD), and the European Footwear Confederation (CEC) on the other – have announced that the 7th edition of the event will be held from the 7th to the 9th of November in Istanbul, under the theme "Reshaping the Future". The aim is to address the challenges the footwear industry is currently facing, such as transport disruptions, accelerated climate change, war, material shortages, the energy crisis and high inflation rates, among others.

After the welcoming event taking place on the evening of the 7th, the second day will be kicked off by Matthew Griffin, also known as the 'Fanatical Futuristic', who will discuss the topic "Step into the future". The first-afternoon session will then discuss the latest consumer trends, including the balance between a socially and environmentally sustainable product, omnichannel solutions and AI and metaverse opportunities. It will feature contributions from Miguel Pomares, Head of Footwear at sustainable fashion company ECOALF, and Francisco Carpineti, CCO and co-founder of omnichannel platform Future Fashion.

The second session will be divided into two parts. The first will discuss business strategies for the new world, with the participation of Jon Ram, CEO of the footwear brand Clarks. The second will turn to sustainability and how to foster a circular economy, and feature a contribution by Federico Brugnoli, who founded SPIN360, a company specialised in developing new sustainable business models and innovative solutions from a technological and organisational viewpoint.

Finally, the last day will turn to the workforce, addressing how to attract and retain talent in today's world with the help of Genaro Pigliacampo, founder of the footwear manufacturer company Gensi Group, known for the high professionalism of its personnel.

More information on the programme and speakers can be found on the
event's website
.