UGG unveils boot made with regeneratively sourced materials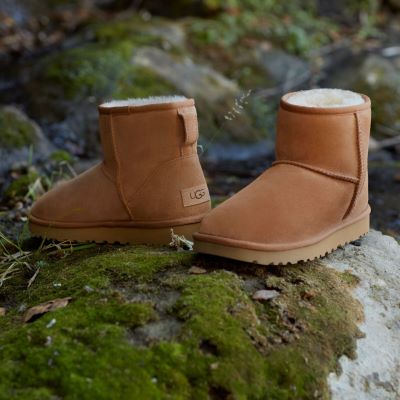 The Californian brand announced the launch of Classic Mini Regenerate. Available for adults and children, this boot is made with materials from Atkins Ranch, known for its regenerative practices
"We believe regenerative agriculture can be one way to ease the climate crisis through practical action that can replenish and restore the planet. The new Classic Mini Regenerate is made with sheepskin from farms that practice regenerative agriculture to help restore soil, encourage wildlife diversity, capture carbon in the ground, and preserve the land for future generations", stated Nicks Ericsson, Senior Director of Brand Purpose at UGG.

In addition to the use of Land to Market-certified sheepskin, the Classic Mini Regenerate includes an outsole made from fast-growing sugarcane that is meant to offer the same cushioning and traction as the brand's signature Treadlite outsole. UGG added that this new release is carbon-neutral, as it uses low-impact materials combined with offsets purchased for the small remaining emissions they create.

For every purchase of the Classic Mini Regenerate, the brand will contribute to the conversion of twenty acres of grassland to regenerative farmland by donating 6 US dollars per pair from the total purchase to the Savory Institute, an organization which promotes verified regenerative partners with whom UGG "is proud partners".

The division of Deckers Brands has also committed to helping restore one million acres of grassland into regenerative farmland in the farm where it sources by 2025. Additionally, UGG has established a long-term grant with the outcome-based verified regenerative sourcing solution Land to Market to support regenerative farming practices on sheep farms in Australia, influencing over 200 000 acres and forty farms.

Image Credits: prnewswire.com