The countdown for the Safety Footwear Revolution Week is on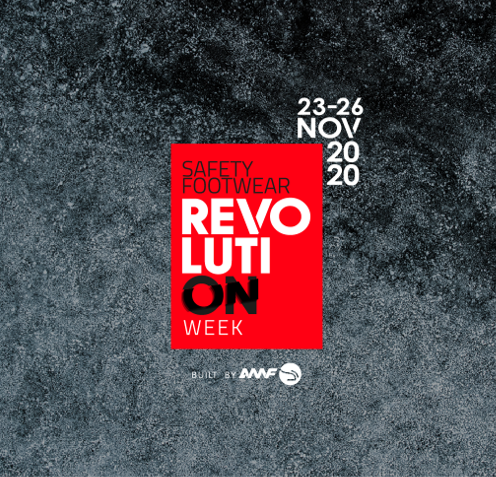 From the 23rd to the 26th of November 2020 a fully digital and virtual conference is being organised by AMF SAFETY SHOES, TOWORKFOR, and ALOFT with an aim to discuss and reflect on 4 main revolutions impacting the Footwear Manufacturing sector
The COVID-19 pandemic the world is living, the geopolitical tensions and the increasing environmental challenges we're all facing, alongside unprecedented materials, artificial intelligence and workforce evolution, create a moment of enormous uncertainty and opportunities for the Footwear Manufacturing sector.

Seeking to find answers to these urgent matters, AMF SFAETY SHOES, TOWORKFOR, and ALOFT – with the support of APICCAPS, CTCP and the European Footwear Confederation – decided to organize the SAFETY FOOTWEAR REVOLUTION WEEK, a fully digital and virtual conference that aims to be a milestone on the footwear sector.
The event is divided into four-morning sessions, taking place from the 23rd to the 26th of November 2020, and dedicated to 4 main topics/revolutions under debate:
- 23rd Nov / EUROPEAN INDUSTRY;
- 24th Nov / DIGITAL;
- 25th Nov / TECHNICAL FOOTWEAR;
- 26th Nov / ENVIRONMENTAL SUSTAINABILITY.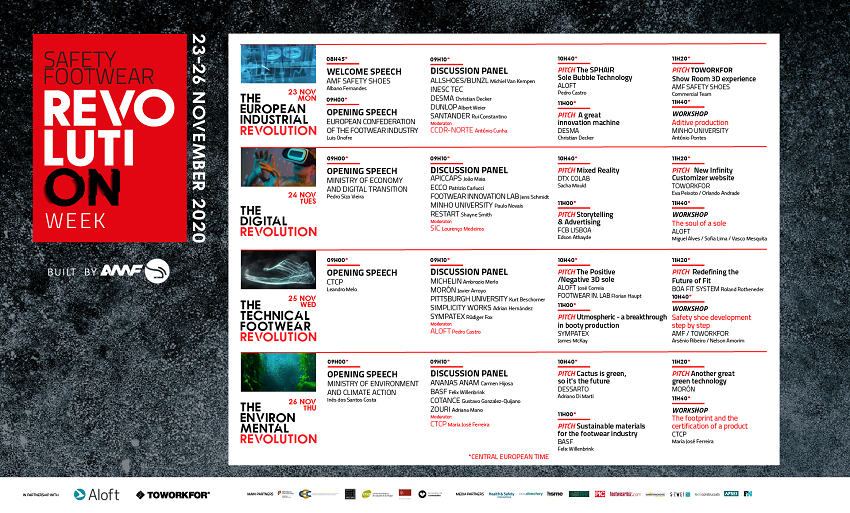 During a discussion panel of roughly 80 minutes, they will be joyfully dealt with through a digital platform by 5 International renowned guests, moderated by a key speaker. Each day will be opened with a short speech from a well-known leading personality. Due to the international scope of the event, the working language will be English. The event will also comprise thematic workshops and new demonstration pitches from key industry brands. In addition to the content announced, the participants will also be surprised by several experiences of virtual reality and 360º.



ACCESS TO THE EVENT IS FREE BUT LIMITED
In case of questions and information requested get in contact with: info@footwearevolution.com