Skechers raises 1.8 million US dollars for kids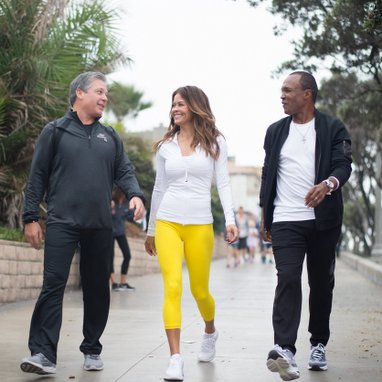 The 9th edition of Skechers Pier to Pier Friendship Walk raised more than 1.8 million US dollars for children with special needs and education, exceeding its goal. The walk reached a new record with more than 13 000 walkers and participants
Entertainment, sport and fitness celebrities were gathered for the 9th edition of Skechers Pier to Pier Friendship Walk. Actress, model and longtime Skechers supporter Brooke Burke-Charvet, legendary boxer Sugar Ray Leonard and fitness icon Denise Austin were some of the stars present. The event also featured numerous teen celebrities, including appearances by This Is Us stars Logan Shroyer, Niles Fitch, Parker Bates and Mackenzie Hancsicsak, and special performances by recording artist Asia Monet; NBC's Little Big Shots' Kieran Tamondong; America's Got Talent duo Artyon and Paige; Nickelodeon star Ciara Wilson; dance sensation Larsen Thompson; and actress/singer Jada Facer, who performed the National Anthem.

"I've been part of the Skechers Pier to Pier Friendship Walk for seven years now, because I love how Skechers has its heart in the right place – caring for what's most important, our kids," said Brooke Burke-Charvet. Our children deserve everything that we can give. And this walk has made such incredible strides – not just in bringing all of our children together, but our entire community."

"The Skechers Pier to Pier Friendship Walk didn't just have another record-breaking day; it's grown into a year-round community-wide movement for our kids," commented Michael Greenberg, president of Skechers, adding: "People have such an incredible devotion to our children, and that love really came through at our walk".

The Skechers Pier to Pier Friendship Walk has raised more than 8 million US dollars since its 2009 launch. Funds support The Friendship Foundation, an organization that assists children with special needs and their families through one-on-one peer mentoring, social recreational programming, field trips and sporting events, as well as education foundations committed to retaining vital academic programs, maintaining smaller class sizes, improving libraries, and upgrading school technology. The Skechers Foundation is also entering the fourth year of its scholarship program, and plans to donate 100 000 US dollars to deserving students across the country in 2018.