Shoe Carnival announces third quarter results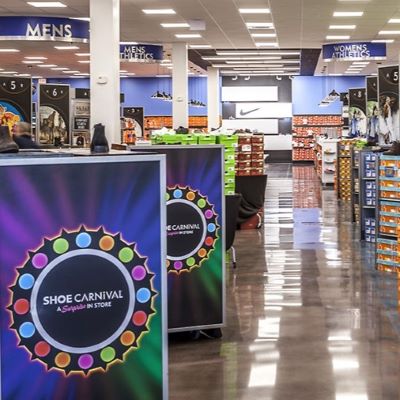 The US-based footwear retailer reported a sales decline of 4% in the third quarter of 2022, as compared to the same period of 2021, in which results were impacted by governmental stimulus
"The Shoe Carnival team grew our customer base to a record high 31.5 million loyal customers, up nearly 35% over the past three years, by leveraging our advanced customer relationship capabilities and providing our customers with the freshest products from their favourite brands. Despite the challenging inflationary environment our customers face, Q3 sales results were the second-highest quarterly result in the Company's history and year-to-date EPS more than doubled any full year of earnings in our 44 years of operation except for government stimulus influenced 2021", commented Mark Worden, President, and Chief Executive Officer of Shoe Carnival.

Third Quarter Results
(The company stated that due to the volatility experienced during 2020 and 2021, it believes that the most relevant comparison for the third quarter of 2022 is the same quarter of 2019, before the beginning of the COVID-19 pandemic and related government stimulus that impacted last year's results).





In the third quarter of 2022, Shoe Carnival's net sales reached 341.7 million US dollars, increasing by 24.4%, on a comparable basis to the same period of 2019, but declining by 4.1%, as compared to the third quarter of last year.





The retailer's gross profit margin widened 740 basis points to 38.3% in the third quarter of the current fiscal year, as compared to the same quarter of 2019, but contracted 210 basis points from the 40.4% gross margin recorded in a similar period of 2021.





In the three months to the 29th of October, Shoe Carnival posted a net income of 32.7 million US dollars, or 1.18 US dollars per diluted share, as compared to the net income of 13.7 million US dollars, or 0.47 US dollars, registered in the same period of 2019. In comparison to third quarter of 2021, this quarter's net income declined from 46.8 million US dollars, or 1.64 US dollars.



Stores Update
The company reported that it is planning to open three Shoe Station stores throughout the fourth quarter, ending the fiscal year with 25 Shoe Station stores, 373 Shoe Carnival stores, thus 398 total stores. Shoe Carnival aims to operate over 400 stores in the first half of 2023 and to surpass the 500 mark in the coming three-to-five-year horizon.



Full Year Outlook
Shoe Carnival is on track to reach net sales between 1.27 billion US dollars and 1.30 billion US dollars over fiscal 2022, up by 23% to 25%, as compared to fiscal 2019. Annual earnings per share are expected in the range of 3.95 US dollars to 4.10 US dollars.








Image Credits: sgbonline.com