Portuguese footwear brands partner with fashion designers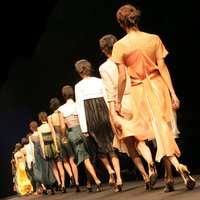 Portuguese footwear industry in association with national designers, allying know how with creativity, to seduce more customers

Portugal has a long tradition in the footwear industry having accumulated invaluable know how; however, for years the industry was mainly focused on producing for other brands and designers, without having an active part on such elements as innovation, design and fashion. The desire to conquer new markets and diversify was part of the sector's strategy, resulting in a new shit in the Portuguese industry that took place over the last two decades. Such change required the collaboration with designers, universities and technology and R&D centers. Nowadays, the Portuguese footwear industry is recognized worldwide by its ability to analyze trends, develop new products, and innovate in fashion and design.

In recent fashion shows, such as Moda Lisboa and Portugal Fashion, the footwear industry teamed up, once again, with talented designers to present the new collections for fall / winter 2014/15. There are numerous successful collaboration stories that illustrate this recent trend. Brand Basilius, with several years of experience and a reference within the footwear industry in Portugal, has teamed up with designer Pedro Pedro, winner of the 1st Prize at the "I Mode You European Fashion Awards 03" and with a career in fashion with over 15 years. Pedro Pedro was recently involved in Basilius' most recent collection, The Proud Rebel. Eureka, a brand with more than 30 years of experience, set up a partnership with renowned designer Nuno Gama, which marked the beginning of a set of collaborations with several designers under EurekaCoxLabs. This unique project has resulted in the presentation of a dozen lines in collaboration with Nuno Gama, Marques'Almeida, Os Burgueses and Ricardo Andrez, since the presentation of the collections for fall / winter in 2011/12. Goldmud is a recent brand born in 2010 and owned by company Why We Trading, a Portuguese firm managed by the fourth generation of a family dedicated to footwear manufacturing. They have partnered with designer Alexandra Moura for the first time for the fall / winter collection 2011/12 and since then they work together to adapt the ideas and the initial concepts to all the requirements of making a good product. Also, JJ Heitor, a company with more than 50 years of experience in the industry, partnered with designer Nuno Baltazar; brand Helsar with Luís Buchinho and Evereste with Miguel Vieira, one of the most respected Portuguese fashion designers, not only nationally but also internationally, with a career of more than three decades.

"We used to see funny situations on the catwalk with shoes that weren't up to the excellence of the clothing presented. These collaborations were born to enrich the fashion shows, but as the partners were getting to know each other and confidence was solidified, these expanded to the market. Basically, the know-how accumulated over generations was allied with national creativity", says APICCAPS, the Portuguese Footwear, Components and Leather Goods Manufacturers' Association.

A new shift in direction and an amazing set of results obtained in just a few years, that was only possible because the Portuguese industry had the ability to think strategically about its own future, focusing on the key elements to grow in a sustainable way. In an industry that exports over 95% of its production, design that reflects the latest trends allied to quality of its materials and know how is key to ensure success. As a result of integrated strategies developed by the sector and its association, Portuguese footwear exports increased 8% in 2013, reaching a total value over 1 700 million euros and 74 million pairs sold to clients distributed across 150 countries all over the world.