Pakistan and Russia agree to enhance bilateral trade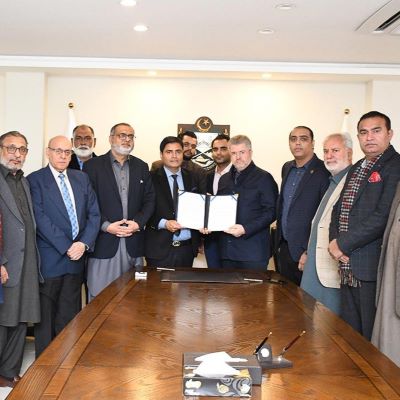 The Islamabad Chamber of Commerce and Industry (ICCI) has signed a Memorandum of Understanding with the Moscow Chamber of Commerce and Industry (MCCI) to promote trade between the two countries
According to Ahsan Zafar Bakhtawari, Pakistan and Russia have great potential to expand their bilateral trade, which could increase to at least 5 billion US dollars in coming years. He highlighted that Pakistan could export many products to Russia, including leather products, clothing and sporting goods, among others.

The document was signed by the President of ICCI, Ahsan Zafar Bakhtawari, and the Chairman of the Commission on Foreign Economic Relations with Partners in Pakistan of MCCI, Stanislav Korolev. The President of the Pakistan Trade House in Russia, Dr. Zahid A. Khan, was also present in the signing ceremony, held at ICCI, in Islamabad.

Bakhtawari added that he hopes both countries can come to sign a free trade agreement, saying that Russian investors could invest in energy, oil and gas, infrastructure development, railways, and other sectors in Pakistan.

Korolev, in turn, stated that Russia also wants to continue expanding ties with Pakistan, recalling that he has been working with the Islamic Bank in Russia since 2015 to promote trade with Muslim countries, including Pakistan. Additionally, following the three-day Pakistan-Russian Intergovernmental Commission on Trade, Economic, Scientific and Technical Cooperation, the Energy Ministers of Russia and Pakistan have already signed a protocol to boost cooperation in the energy sector.

Image Credits: icci.com.pk