Luís Onofre wins award for designer of the year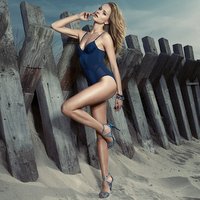 It is the first time that a designer working exclusively on shoes and accessories wins a designer award in Portugal

Luís Onofre belongs to a third generation of a family working in the footwear industry, and has one of the most renowned Portuguese footwear brands created in 1999. Mr Onofre opened its first flagship store last January at Avenida da Liberdade, one of the main streets in Lisbon located in the shopping area and a tourist landmark by its scenic view, prestigious shops, hotels, theaters and historic buildings. Divided between two floors, the store offers in a unique space the full universe of one of the most luxurious brands of accessories in Portugal. Favoring access to special and exclusive models, the store is also the natural display for the catwalk collections. The environment is characterized by elegance and sobriety, creating a harmony between space and product.
2014 has been a year of significant recognition for the designer, who now received the Golden Globe award under the category of designer of the year, in a competition organized by TV channel SIC and Magazine CARAS. It was the first time that a fashion designer working exclusively on shoes and accessories won a designer award in Portugal.
According to Mr Onofre to make high quality products: "it is important to select high-class materials, as well as to combine innovation and technology with the level of detail of a handmade production", adding: "The design of a shoe is a unique process that joins technique and inspiration together."
Currently, its brand export 93% of their production to countries all over the world: Spain, Russia, Netherlands and Belgium, Southern France, Germany, Dubai, USA, Canada, Angola, Nigeria, Brazil, Mongolia, China and South America. Worldwide known celebrities like Penélope Cruz, Naomi Watts, Michelle Obama, Laetizia Ortiz or Genoveva Casanova wear Luís Onofre shoes.
For more information about Luís Onofre please visit the website:
http://luisonofre.com/