Louis Vuitton and NBA in partnership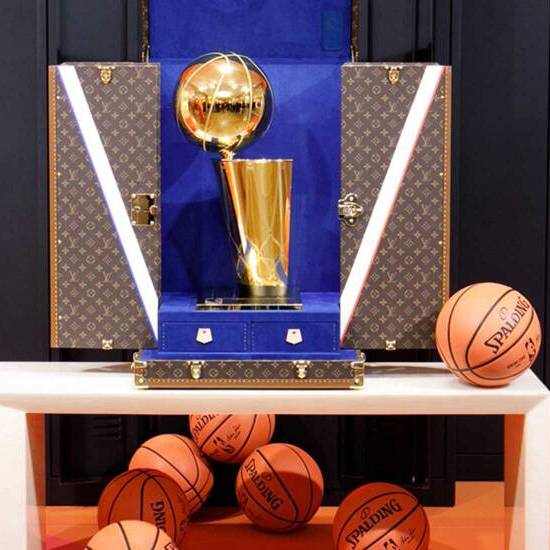 The France-based luxury label has announced a partnership with the US National Basketball Association (NBA). Louis Vuitton will also become the official Trophy Travel Case Provider
Louis Vuitton announced a global partnership with the NBA ahead of the NBA Paris 2020 Game between the Charlotte Hornets and the Milwaukee Bucks on the 24th January at the AccorHotels Arena. Louis Vuitton becomes the official Trophy Travel Case provider for the league's Larry O'Brien trophy, in keeping with the Maison's slogan for its sports collaborations: "Victory Travels in Louis Vuitton". The partnership with the NBA is Louis Vuitton's first partnership with a North American sports league. Louis Vuitton becomes official Trophy Travel Case provider of the Larry O'Brien Trophy, which is presented to the NBA champion each June.

Hand-crafted in Louis Vuitton's historic Asnières workshop on the outskirts of Paris, the trunk is coated in the Maison's emblematic Monogram canvas and fitted with traditional brass fixtures. Louis Vuitton has already created several suitcases of this type to house the trophies of competitions such as the Football World Cup, the Rugby World Cup and even Roland-Garros.


"Louis Vuitton and the NBA are both icons and leaders in their respective fields, and the joining of the two promises exciting and surprising moments, forging historic memories together", commented Louis Vuitton Chairman and CEO Michael Burke. "Louis Vuitton has long been associated with the world's most coveted trophies, and with this iconic partnership the legacy continues – victory does indeed travel in Louis Vuitton", he concluded.

Louis Vuitton and the NBA will also work together to co-author stories around one of sport's most symbolic trophies and its unique travel companion. In addition, Louis Vuitton will create an annual limited-edition capsule collection.
With this type of deals, luxury brands want to give a clear sign that they can get involved in more than just the universe of sports clothing. This is not Louis Vuitton's first partnership into this segment (previous partnership with Supreme). Other brands with similar forays, are Dior, which recently presented its ready-to-wear and sneaker collection created in collaboration with Nike and Jordan, and Prada, with its announcement of a long-term collaboration with adidas by the end of last year.