International footwear trade declined in 2015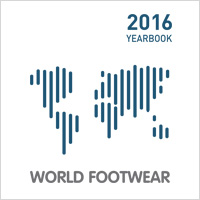 According to the latest edition of the World Footwear Yearbook this movement occurs after five years of double-digit growth rates
The fifth edition of the World Footwear Yearbook (
available here
), developed by APICCAPS, the Portuguese Footwear, Components and Leather Goods Manufacturers' Association, in partnership with GDS, is now available in paper version and presents the main conclusions regarding the footwear dynamics in 2015.
The World Footwear Yearbook offers a comprehensive picture of the footwear industry worldwide, focusing on the main trends at international trade, consumption and production. Global information is enriched by dozens of individual country profiles, with 79 territories under analysis.
The World Footwear Yearbook estimates that after five years of double-digit growth rates international footwear trade declined in 2015: the number of pairs exported fell by 4.7%, to 14.3 billion, and their value by 4.9%, to 127 billion dollars. In spite of similarities between these movements, the fall in quantity was driven almost entirely by Asian countries (responsible for 97% of the variation), while the decrease in value is mainly explained by the performance of European players (explaining 2/3 of the movement), a reflection of the Euro depreciation.
In spite of the decline in 2015, over the last decade the value of the footwear exported worldwide doubled. A major contribution to this movement comes from China, whose footwear exports in 2015 came to just under 10 billion pairs, reducing the country's share of the world total to a still very impressive figure of 69%. Moving in the opposite direction, Vietnam crossed the 1 billion pair threshold and achieved a share of 7% in worldwide exports.
To get more detailed information about the footwear industry in 2015 buy your copy of the World Footwear Yearbook
following this link to access the store
.