Get to know the Undandy customised shoes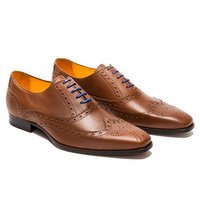 The customer can choose the model, color and material when making an order. A five minutes task with the shoe reaching the customer in a couple of weeks
Undandy, inspired in the Dandys, a tribe of men who like to dress well, follow fashion trends, is the dream of two fashion professionals, Gonçalo Henriques and Rafic Daud, who got "tired of always seeing the same things and so they have created the brand to follow your own path".
The personalization process, all made online, is very straightforward with only five stages. The customer visits the brand's website and picks the last that better fits their style, with three options currently available for classic shoes, Original Round Toe (Cosy), Original Claw Toe (Bold) and the Original Puff Toe (Eternal Classic). Then it is time to customise all the details, in a simulation process which allows the customer to easily experiment with colors, materials, different options for the toecap, the shoelaces and the stitching. And finally choosing the size and finish the order.
Overall 156 thousand million combinations are available for a pair of unique shoes, that can cost on average 220 euros for classic shoes and 145 for the sneaker mode.
With an aim to stimulate the unicity of each person's style, Undandy shoes are handmade in a third generation footwear factory in São João da Madeira, one of the main regions for shoes manufacturing in Portugal.
A brand focusing in a market niche and manufacturing shoes for a customer who value a unique style allied to quality and design. With only a few months in business, Undandy is already selling their products to such diverse markets as Russia, China, Nigeria, Qatar, the United Kingdom and the US.
For more information about Undandy please refer to the
brand's website
.