Francal opens with Fashion industry conference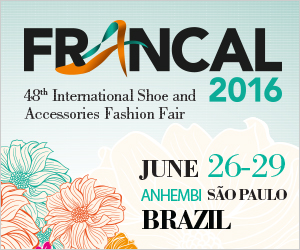 This year the Brazilian trade fair has chosen a different format to welcome the industry to the event and has organised a panel to discuss the current state of the art in the fashion industry
The conference will feature the participation of entrepreneurs and industry leaders.

The goal is to form a picture of the present and future state of the industry, with the contributing thoughts of representatives from the footwear industry chain.

The conference will take place on the 26th of June at 12 am.

The forty-eighth edition of the Francal exhibition will take place in São Paulo from June 26-29. Organisers are expecting 200 overseas buyers from 29 different to attend the trade fair and get to know the new collections from over 500 exhibiting Brazilian footwear manufacturers who will present shoes under 1 500 brand names.