ECCO announces record full-year results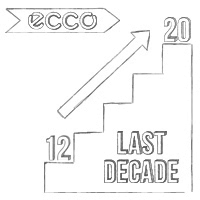 Danish footwear manufacturer and retailer ECCO has posted an 8% increase in full-year profit, recording its "best ever results" in 2013.
Total net sales
increased by 47.9 million euros, a 4.4% growth from 2012 (6.3% at constant foreign exchange rates). Accessories and ECCO leather continued the positive development. Net sales in shoes grew to 1.006 million euros, mostly driven by a better product mix selling higher value products. Looking back over the last decade, sales of shoes grew from 12 million pairs to 20 million pairs, a 67% increase.
Net revenue
in 2013 was 1.131 million euros, up by 4.4% from 1.083 million euros in 2012. Going back to 2009, when the group reported net revenue of 677 million euros, growth rate in the period 2009-13 is 67%, expressing an outstanding growth of the groups' revenue.
Profit before tax reached 165 million euros equivalent to an increase of 8.0% over previous year's results. This produced a profit ratio of 14.6%, against 14.1% in 2012. The year's result for the group is 106.4 million euros, an increase of 15.8% compared to 2012, and a 164.7% compared to 2009. ECCO's cash flow and balance sheet remained strong in 2013, with working capital increasing to accommodate continued growth.
"
It's a very pleasing performance
," said Dieter Kasprzak, ECCO's CEO, announcing the company's best ever results in 2013, adding: "We have been successful in reorganizing our production footprint, whilst growing our business and profits."
ECCO continued its
drive to increase branded space
, opening 115 new shops and 140 shop-in-shops during the year, bringing the total numbers to 1.777 shops and 1.812 shop-in-shops, across the world. The group also refurbished 300 shops during the year, and all considered, its products are now sold in 15.00 sales points located in 87 countries.
The family-owned company announced 2013 as its busiest year ever, while rebuilding its tannery in Indonesia and completing a new one in the Netherlands to focus on the manufacture of luxury leather. The company also restructured its shoe production footprint, by reducing the Thailand factory production capacity by 30%, a decision in line with its strategy to reduce risk limiting each factory to no more than 20% of ECCO's total production. In accordance with this strategy, production capacity was reduced in Slovakia, increased in China, split in two units in Indonesia, and re-started in Portugal.
Founded in 1963, ECCO is a world leading brand of shoes, which positioned its products as a combination of style and comfort, over the years. The company claims to be one of the few major shoe manufacturers in the world to own and manage every step of the shoemaking process. The company is family owned and is currently leaded by Hanni Toosbuy Kasprzak, the daughter of founder Karl Toosbuy.
For more information about ECCO please visit the website:
http://global.ecco.com/en
Company profile

Name
Ecco Sko A/S
Activity
Manufacture and retailer of footwear
Operations
Men, ladies, kids in running, outdoor and golf styles. Shoes, bags, belts, wallets and shoe accessories
Foundation year
1963
Founder
Karl Toosbuy
Stores operated
(as at end of 2013)
1.177 shops and 1.812 shop-in-shops
Employees
(as at the end of 2013)
18.500
Contact Information
ECCO Sko A/S
Industrivej 5
DK - 6261 Bredebro
Denmark
+45 74911625 / +45 74710360
http://global.ecco.com/en