ECCO opens its largest store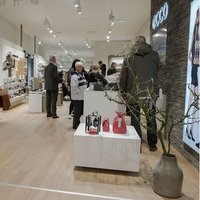 The new store offers the whole brand's collection with Ladies, Men's, Kids, Outdoor, and Accessories as well as a brand new outlet, and is located in the brand's hometown


Danish footwear manufacturer and retailer, ECCO is present in more than 87 countries, but their world's largest store opened in their hometown.

With a total of 266 square metre, the new store is located on the Toosbuy's Square, in Bredebro, Denmark. The space is divided in zones and accommodates several of Ecco's concepts like Golf and Outdoor.

According to the company, the new space will feature the world's first shop-in-shop with leather goods, and will showcase the brand's collection of bags, belts and other small leather goods.

This new store will also function as test store for new initiatives before these are released to the rest of the world.