Duong Le from LEFASO live on World Footwear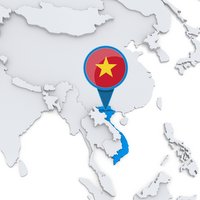 Aiming to get an updated view of the state of the footwear industry in Vietnam we spoke to the sector's association

Vietnam, the 3rd largest footwear manufacturer in 2014 with a 3.7% share, according to the World Footwear Yearbook, is a key player in the industry. According to data from Lefaso (Vietnam Footwear Association) exports of footwear have in 2015 crossed the barrier of 12 billion dollars, with a growth rate of around 15% compared to 2014. The latest available statistics also point to an increase of the quota in sales to the European Union (EU).

In order to get an updated view of the state of the footwear industry in Vietnam we spoke to Duong Le from Lefaso.

Tell us a bit about the footwear industry in Vietnam.
In the year 2015, Vietnam's footwear production increased by 21% and exports of footwear increase by 17% compared with 2014, reaching the value of 12 billion USD, of which about 70% are sport shoes. Main Vietnam's export markets are the US with a 33.9% share and EU with a 33.1% share. China (6,3%) and Japan (5%) follow at some distance.

How important is the Foreign Direct Investment (FDI) within the Vietnamese Footwear Industry?
About 79% of Vietnam's footwear export is covered by FDI in Vietnam, mainly Taiwanese and Korean companies. Vietnamese companies make about 20% of total footwear Vietnam's export.
On the domestic market, Vietnamese companies cover about 50% of domestic footwear consumptions (of about 200 million pairs). The other 50% are covered by import of footwear, mainly from China, Thailand, etc.
The lower export share of local companies and a higher FDI's export share doesn't mean that the number of local manufacturers is reducing. But, in fact, shows that FDI is increasing quickly during the last few years, by new investments and expanding of capacity.

How intense has been the delocalization process of companies from China to Vietnam?
Due to higher production costs in China, foreign manufacturers in this country are moving their facilities out of China to Vietnam. More new orders are also redirected to their facilities in Vietnam. The trend of switching orders from China to Vietnam keeps increses Vietnam's export of footwear to the world markets, in light of the reduction of China's export share. On the other hand, the increase of FDI's investment in Vietnam in the anticipation of new FTAs is a reality, especially now that with EU and the TPP recently concluded.

What's the importance of the FTAs for the recent development of the Vietnam's footwear industry?
In the view of these new FTAs, the export of footwear from Vietnam will benefit from reducing customs tariff. For the EU markets, about 80.3% of footwear tariff duties will reduce to 0% upon effectiveness. About 4.7% come to reduce to 0% after 3 years and the remaining will be completed after 5-7 years. With the US market, the tariff reduction for footwear will be quicker and mostly to be completed upon effectiveness of TPP. Vietnam will attract more foreign investments for footwear production.

What challenges are you expecting for the next few years?
The rapid development of leather and footwear manufacture are creating concerns about environment, especially the production of leather tanning and fabrics for shoes, making the production of leather and synthetic materials in Vietnam costly and of higher pricing. In this situation, footwear manufacturers may turn to import more materials from China and Korea for their footwear production.