Coach converts Boeing 747 into a retail concept store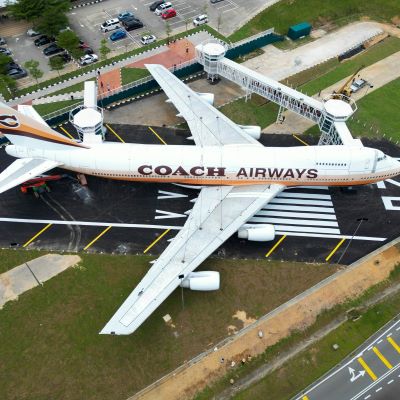 The luxury brand owned by Tapestry has unveiled an immersive retail concept store housed in a transformed 1981 Boeing 747-230B aircraft at Freeport A'Famosa Outlet in Malacca
Customers will be given an entry pass resembling an air ticket upon entering the first Coach Airways "to emulate an air travel experience right from the entrance via an air bridge" and will be able to browse a curated selection of all-gender ready-to-wear, bags, and travel accessories in its interior retail cabins. The aim is to offer a shopping environment reminiscent of the golden age of air travel, emphasizing luxury and elegance.

The aircraft will also be equipped with a welcoming area, an immersive gallery, and a contemporary café to provide guests with a space to relax while enjoying the ambience of the transformed aircraft.

"The opening of Coach Airways marks not only the launch of our first retail concept of its kind, but also an exciting moment for Coach as we continue to push innovation and create a space where customers can explore and interact. We are looking forward to bringing our customers this experiential retail pop-up at Freeport A'Famosa Outlet, a popular shopping destination in Malacca", commented Campbell O'Shea, General Manager, Tapestry Southeast Asia & Oceania.

On the other end, the Chief Minister of Malacca, YAB Datuk Seri Ab Rauf Bin Yusoh, highlighted that this opening "marks a significant milestone in the state's dedication to enhancing its tourism offerings for the public" and that is aligned with the goals of the Visit Malacca 2024 programme.

Image Credits: prnewswire.com